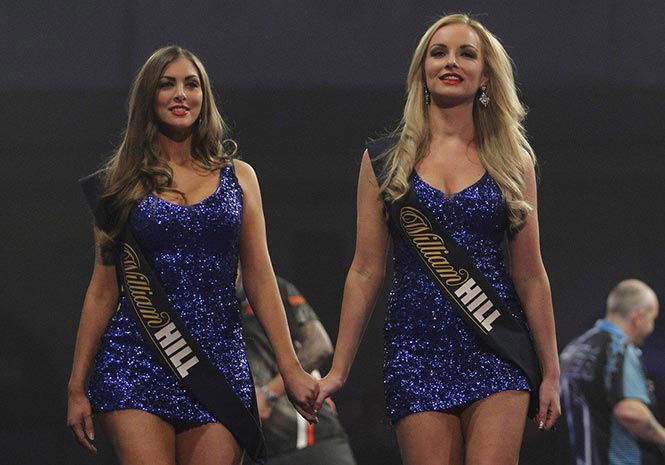 A PETITION to reverse the ban on walk-on girls during darts matches has reached almost 40,000 signatures.
On January 26, the Professional Darts Corporation (PDC) announced that it would no longer use walk-on girls in its tournaments
The decision was swiftly followed by Formula One, in their announcement that they will no longer have 'grid girls' at races from the start of the 2018 World Championship season.
Both decisions have received mixed reactions online and the PDC's decision in particular led to the creation of the change.org petition by David Shaw.
The petition, entitled 'I want to keep tradition in darts and keep women in a job', was created accompanied by the message by Mr Shaw: "Not only would we break tradition but women would be out of work also."
At the time of writing, 39, 625 people had signed the change.org petition, while the decision to ban walk-on girls from tournaments has been met with split opinions
@kirsten93 wrote on Twitter: "This banning of walk on girls and grid girls is total nonsense. If a female is happy doing her job then who is anyone to take that away from her?
"Clear from the comments from some of the darts girls who have spoken out that they actually enjoy their job."
While Anthony Nolan, from Carlow, Ireland, also disagreed with the decision commented on the change.org post: "Absolutely. They are models for a reason. Why make them unemployed? Keep the ladies where they should be."
The petition has also been backed by former Darts World Champion Raymond Van Barneveld who admitted that he would "really miss the girls."
However, the ban has also been met with positive reactions.
Matthew Stadlen, a presenter on LBC Radio, tweeted: "A few dinosaurs out there pretending they care about the 'walk-on girls' losing their right to escort darts players to the stage while skimpily dressed on TV. It's simple.
Televised sport shouldn't be promoting the idea that women are sex object side-kicks to skilful sportsmen."
While the Women's Sport Trust also tweeted: "We applaud the Professional Darts Corporation moving with the times and deciding to no longer use walk-on-girls."
The petition can be found here.