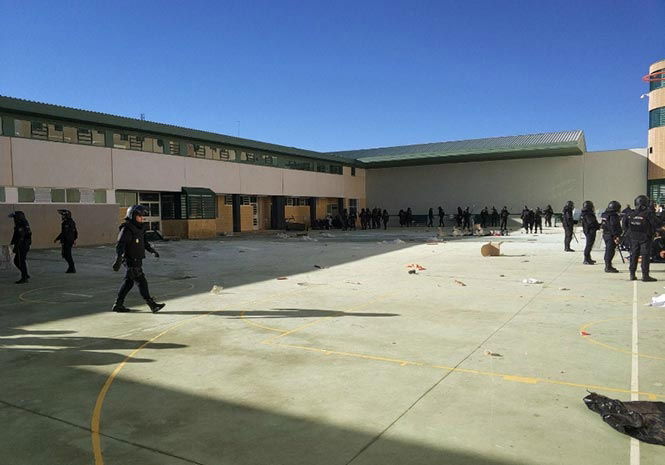 THE Spanish government have admitted that they did lock up 11 migrant children in an 'unopened' prison – two and a half months after doing it.
Juan Ignacio Zoido, the Minister of the Interior, finally acknowledged today that the youngsters were initially held in Archidona prison.
He added that a further 89 people were released – 63 for asylum reasons, 11 for humanitarian issues, three for precautionary reasons and one who was not believed to be Algerian.
The treatment of the nearly 600 migrants put in the prison was widely and angrily condemned by rights groups, opposition parties, charities and the United Nations (UN).
They were held in the prison, which was not due to be opened until early 2018, since mid-November.
Mr Zoido said the 11 children were moved into the care of the Andalucian authorities once their age was known.
The UN has previously expressed concerns about the way child migrants are being treated upon arrival in Spain, but stopped short of explicitly criticising this aspect of the situation in Archidona.
As early as late November to early December, activists were claiming that there were children in the prison, where conditions were heavily criticised.
Protesters regularly demonstrated outside the facility, which was a hub of activism while the migrants were being held there. The government faced repeated accusations of police brutality, illegal action and poor conditions at the facility.
When the migrants were deported back to Algeria, some activists were restrained by police as the coaches pulled away. Others cried.
Mr Zoido also claimed that Mohamed Bouderbala, who died in the prison, was "encouraging" a riot that occurred in the days before his death, reports say. The minister also condemned "conspiracy theories" about the death, according to Spanish press.
The migrants were quickly deported in early January following 36-year-old Mr Bouderbala's death. Activists say authorities were trying to remove potential witnesses from the country.
The provisional findings of an official report into the death pointed towards the authorities' account of suicide. Police say he was found hanging in his cell.
However, video footage appears to show a man lying face down outside of a cell. The Algerian government is investigating the death, following claims from inmates that he died after being beaten by police and kicked in the head.
Before all the migrants left the makeshift facility, there were reports that three of them had begun self-harming.
One riot at the facilities led to reports of the use of tear gas, rubber bullets, batons and riot police.