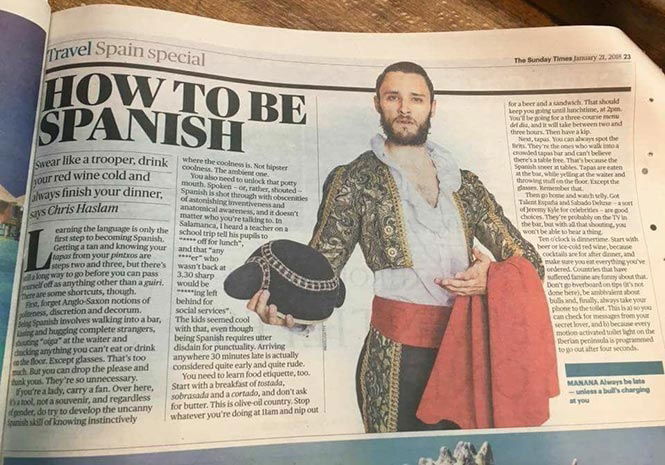 SPANIARDS have voiced their outrage with a recent article published in the UK about how to become Spanish.
The Sunday Times article – featured in the Travel section – starts off by saying the language and "knowing the difference between pintxos and tapas" are just the first three steps to 'becoming Spanish.'
The piece then says to "forget all notions of Anglo-Saxon notions of politeness, discretion and decorum" when going to a bar, encouraging readers to throw everything – except glasses – on the floor and shout at waiting staff.
It goes on to suggest that Spaniards cannot speak without using obscenities, and arriving "anywhere 30 minutes late is actually considered quite early and quite rude."
The section that caused the most criticism however said that you must eat everything on your plate as "countries that have suffered famine are funny like that."
The article has since been mentioned throughout Spanish media, as well as hundreds of angry comments on social media mentioning British tourists drunken behaviour being what is described, not 'Spanish' behaviour. 
The article can be seen in full bellow.
Really??? What a shame!!! I'm shouting indeed. And it isn't because I'm Spanish but because I'm outraged. So many unreal "topics" to make British people laugh? Oook. You don't know another way to get fun. You should apologize.

— Maggie Boo (@CordeliusL) January 31, 2018
It's a joke? Does the country that invented and exported the hooligans to the world want to give education lessons to others? ??

— ✦⊱ɛʂɬཞɛƖƖą⊰✦ (@Ulloriak) January 30, 2018