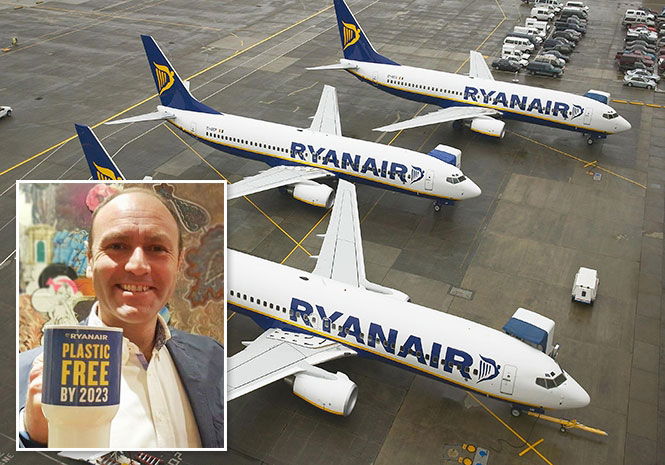 RYANAIR'S Chief Marketing Officer, Kenny Jacobs, has confirmed the low-cost Irish airline will sell 2019 post-Brexit flights in Europe from summer 2018.
But there will be special terms and conditions on the tickets saying they are 'subject to the regulatory environment.'
Today the airline has also announced new initiatives to be rolled out in 2018 including a Price Promise and claim "Find a cheaper fare and we'll refund the difference + €5 to your My Ryanair account."
Ryanair also said 90% of their flights will be on time.
They also rolled out a Dedicated Claims Team – with a promise that valid would see EU261 claims processed in 10 days,
Jacobs also said Ryanair would be Europe's greenest airline with a carbon offset scheme for customers and plastic-free in the next five years.
Since the Brexit referendum in June 2016, Ryanair has repeatedly warned of the possibility there will be no flights between the UK and Europe once Britain leaves the EU.
Jacob's said, "We will announce our summerschedule soon enough here for the UK, but that summer schedule will have a terms and conditions saying this is subject to the regulatory environment. Once we start selling tickets that will be in the post Brexit schedule from 1st of April 2019 – typically sold from September.
"Brexit is probably something we've talked a huge amount about over the past 18 months, at the moment politics have overtaken it, but nothing has changed and it's still set for April 2019. There's still no alternative to open skies.
"We're calling on Brussels and the UK government to give us a regulatory condition – we were saying this two years ago and everyone was saying that was Ryanair being alarmist.
Jacobs added, "The situation hasn't changed for us, we have applied for a UK AOC to make sure we can fly domestic routes within the UK if we need to, we've also flagged to shareholders that we need to work out the situation in terms of ownership."
"We are looking at possibly moving the Ryanair base out of the UK and into other European bases, but that seems unlikely because there will be a period after April 2019, before Brexit really changes regulations where everyone will be kicking the can down the road on the back on of the UK deciding what the final settlement is.
Jacobs was speaking at a press conference today to discuss the airline's '2018 Always Getting Better' plan.
"What we've said previously about our business plan – getting to 200 million by 2024 – that hasn't changed. That would give us 20 per cent of European market."
Jacobs also announced the company's intention to push hotel rooms category this year, and said, "We want to create disruption, and we want customers who fly with Ryanair to book rooms with us too."
And on the international travel front he said, ""We are looking to do self-connecting flights with AirEurope in 2018. Also, Aerlingus are now doing direct to Seattle and other US destinations so we're continuing to speak to them. We are hoping in 2018 there will be a self-connecting product with Ryanair and Aerlingus. We are no longer talking to Norwegian.
"I think it is really interesting in terms of what we've set out, and our legacy focuses on long haul travel. Ryanair does the dot to dot destinations and that's what we see as the future for the industry."