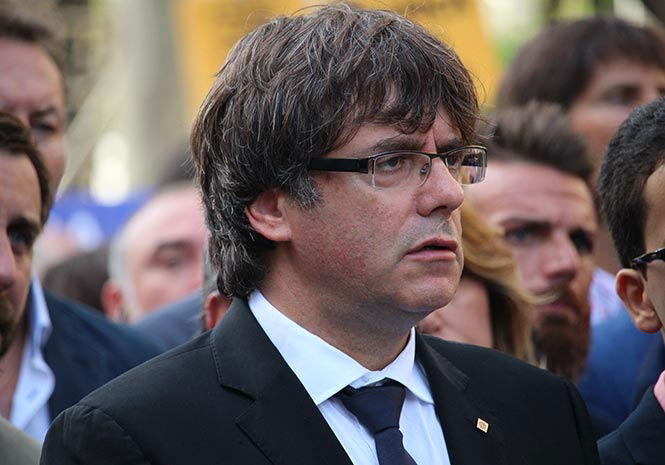 CARLES PUIGDEMONT, the deposed and exiled Catalan president, could be reinstated today, during what is likely to be a tumultuous day for Spain.
Whether Puigdemont is sworn in by video link, in absence, or arrested if he attempts to return to Spain, the day is likely to be completely unprecedented in Catalan and perhaps Spanish history.
Confusion reigns about whether the vote could be delayed or another candidate could become president.
But this morning the new Catalan parliament speaker said "I will not propose any candidate that is not Puigdemont."
Madrid wants to block Puigdemont's presidency and would likely favour a different. They have an arrest warrant on charges of rebellion, sedition and misuse of public funds.
Yesterday, Puigdemont asked the regional parliament to guarantee his right to attend the session in which he would be voted in as president.
But Puigdemont is expected to be arrested as soon as he returns to Spain. On Saturday, the country's constitutional court ruled that he must be present in parliament to become president. 
The regional parliament vote – normally a formality – begins at 3pm.
Puigdemont, who was sacked by the Spanish government following an illegal referendum and declaration of independence, has been in self-imposed exile in Belgium. However, he wants to rule the region, and last night rumours were swirling that he could make a surprise return, risking arrest.
Yesterday he posted a picture on his Instagram account of a road which leads to the Catalan parliament.
The constitutional court also said he must get permission to attend the session, however it is not clear whether he will seek it. The Spanish newspaper El Pais has claimed that the Prime Minister Mariano Rajoy and other cabinet members personally made contact with judges before the ruling.
Puigdemont's party has made a deal to lead a separatist coalition, following elections last month.
His party came second, but independence groups retained their overall majority and are set to work together. 
An illegal referendum last year showed high support for Catalan independence.
But the Spanish government are deeply opposed to the idea and say they will take legal action if Puigdemont attempts to rule from abroad. 
Like a number of other representatives, Puigdemont was not present when the regional parliament was sworn in two weeks ago.
Party officials have been seeking legal advice and exploring how Puigdemont can become president without being arrested.
There is also thought to be a strong possibility that the vote could be delayed.
A pro-unity party, Ciudadanos – led by Ines Arrimadas – won most seats in the regional elections. Arrimadas has previously said she would "love" to become president and does not expect the pro-independence parties to come to a workable agreement.
Puigdemont's coalition partners have also hinted that they could back a different presidential candidate – as long as they are pro-independence.