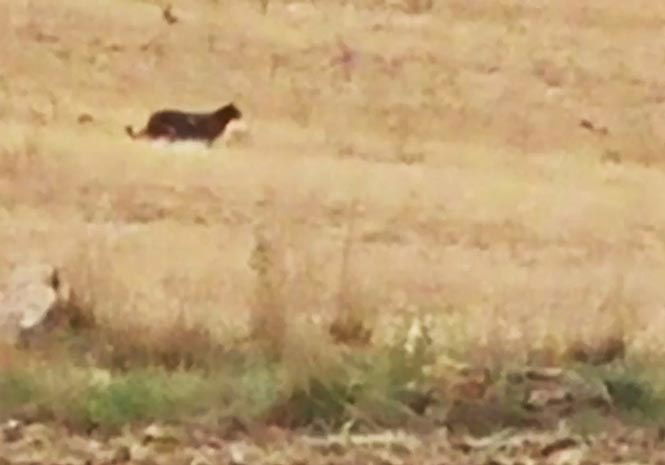 TERRIFIED residents of Guadalajara in Castile-La Mancha are convinced that a big cat is stalking the central Spanish countryside.
Police received a number of calls from citizens of Jadraque – in the foothills of the Sierra Norte de Guadalajara mountains – over the weekend.
And videos recorded over the past seven days appear to show a large, dark cat prowling nearby fields.
The latest sightings follow a string of reports dating back to last summer, with the mystery feline dubbed 'the beast' reportedly spotted by people living in the villages of Bañuelos, La Bodera, Jirueque, Cendejas de la Torre, Atienza and Paredes de Sigüenza.
A Guardia Civil official told Spanish media: "We are receiving more and more calls, especially since the photos and videos went viral on social media."
Among the least populated areas in Europe, the mountains would appear to offer the ideal refuge for a big cat, and the puzzle has been the subject of a national television debate.
But Luis Suarez of the World Wildlife Fund has attributed the sightings to the "imagination," pointing out that no Spanish zoo has reported an escaped panther.
Local people remain convinced that a predator lies in their midst, however, with a dead roe deer strung up in a tree and large, catlike footprints taken as further evidence.
All those who have seen the animal describe a large, black cat with a long tail, and some experts are convinced.
Agustín López, director of biology at the Zoo Aquarium in Madrid, believes the presence of a large cat in the area is "possible," adding that it could have escaped from an illegal private collection.
"Someone could have been keeping the animal, yes…in the famous video the form is totally panther-like, its morphology, and the way it moves."
Those who live in the area remain convinced, with dozens of sightings over the last six months.
One farmer said: "Some people are more careful when going out for a walk now, my mother is really scared."
Mystery big cats are relatively rare in Spain, but in the UK police receive 2-4,000 calls every year.
A puma was captured alive in Inverness-shore, Scotland, in 1980, and several smaller cat species including Eurasian lynx, caracal and serval have reportedly been shot in the last century.
A footprint believed to belong to the big cat