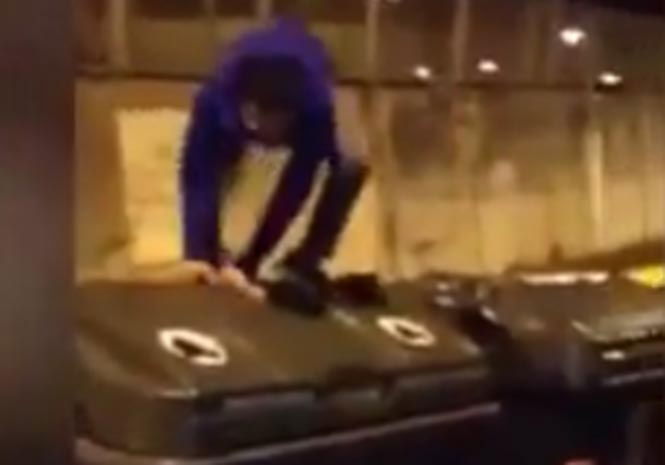 A ROWDY reveller in Bilbao had a painful end to his night when he cringingly crashed into a bin he was trying to jump into. 
Standing on top of a wheelie bin, footage shows the man attempt to land on another nearby rubbish collector.
Moving forward tentatively, friends watch on as the man sizes up the short jump.
He thinks better of a full jump and instead gingerly puts his leg out and attempts to step onto the metal cylinder. 
But far from landing the stunt, his foot misses its target, meaning his stomach connects with the bin instead – catapulting him over it and onto the concrete floor.
The man ends up in a crumpled heap, clutching his ribs – seemingly to his friends' amusement.
He was not seriously hurt, according to reports.
One friend then goes over to check that the brave jumper is okay.
The man, wearing a purple hoody, appears to be drunk in the video, which was apparently filmed  in northern Spain.
Prior to his failed attempt, the young man did have one successful jump, from an adjacent wheelie bin.
His identity has not been revealed.