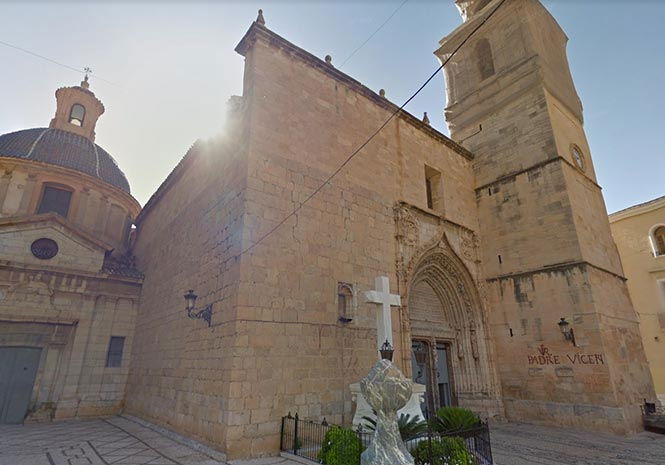 A DIVISIVE cross has been withdrawn from Callosa de Segura at the fourth attempt, despite angry resistance from protesters.
The monument –  heavily associated with the Fascist dictator Franco, who ruled Spain from 1938 to 1973 – was removed in the early hours of Monday morning, according to Spanish media.
Police say they made two arrests when they met resistance to removing the Cross of the Fallen of Callosa de Segura from Plaza Espana, which commemorates fascist fighters who died in the Spanish Civil War. Activists have reportedly been protecting the monument for some 400 days.
National Police and Guardia Civil say that when they attempted to empty the square firecrackers were thrown at them. They arrested a man and woman from Crevillent for resistance.
Both are thought to be from Falange, a neo-Francoist political group.
Rival, anti-fascist groups cheered the monument's removal and exchanged insults with Falange supporters.
One elderly man has been pictured appearing to perform a fascist salute, while counter-protesters laugh at him and perform the 'raised fist' salute, associated with leftist groups.
Falange tweeted a video of altercations with police, and described the scene as: "violent and shameful treatment that some of our younger comrades have received from the mercenaries of the system."
Así ha sido el violento y vergonzoso trato que han recibido algunos de nuestros camaradas más jóvenes por parte de los mercenarios del sistema durante el desalojo de la plaza de la iglesia de Callosa.

¡¡HONOR Y GLORIA CAMARADAS!! pic.twitter.com/44iyASVKwR

— La Falange Levante (@falange_levante) January 29, 2018
The symbolic monument was taken by crane from next to San Martin Church. It was originally built to commemorate those who fought and died for Franco's side during the 1936 civil war.
The 1940s monument was removed to comply with a Spanish law about remembering Franco.
The withdrawal had been pending since 2016 and had been attempted three times before.
The governing PP party – who have links to Franco's former party – previously claimed that when certain parts of the monument were removed, including references to Falange, the monument no longer "(exhalted) Francoism to the effects indicated by the Law of Historical Memory."
A group of mainly elderly people opposed to the removal had been taking turns to protect the monument for around 400 days, according to reports.
Last night, a few dozen gathered near the cross to express their opposition to the move.
The regional authority backs the local government's decision to remove the cross, which could now be moved elsewhere.
The area was later fenced off.