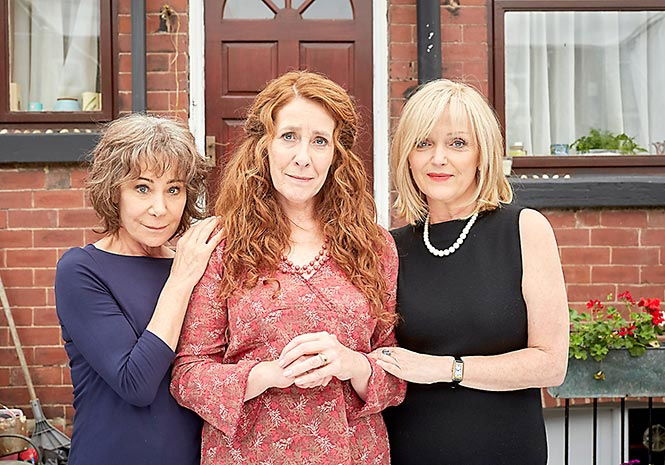 THOUGHT I would give Vera a try on Sunday ITV. Sorry to say it doesn't work for me.
Brenda Blethin dressed as a cast-off from the old lady in the long gone Heartbeat series in a dodgy hat, blue scarf and coat that's seen better days. 
Her P reg Land Rover tops it off. It's an easy watch but I just didn't feel it somehow. Just one last thing, do they address people as 'love' in Northumberland? 
Sometimes having a zap round the channels away from the mainstream brings up  some watchable or repeated TV, and Dave on Demand's American Pickers is always worth a half hour of your time. Two clued-up buyers scour the country searching for antiques or collectables to buy and sell. These guys don't settle just for small items, they will buy anything that looks like there's a profit in it.
In one programme set in upstate New York they met up with First Officer John Skiles, famed for manning the aeroplane that landed in the Hudson River, who had barns full of flying memorabilia.
They went away from there laden with an aeroplane engine, rare air show posters and magazines, and wheels, allowing them to make a sizeable profit. Take a look, no thinking required.
Hard Sun, a BBC six-part drama for Saturday nights kicked off last week and went straight in to the action. Agyness Deyn the ex-model turned actress, made an unusual but creditable cop who can verbally and physically mix it with her peers. There's skulduggery everywhere you turn in this pre-apocalyptic thriller, which starts after a computer document saying the world has five years to doomsday is leaked. 
The intelligence services are on her trail and they have all her hangout covered. Looks like a hit from the Beeb, but it's still early days.
Homes Under the Hammer (BBC 1) should be axed immediately as this tired old format has reached its end point. Buy cheap, renovate cheap, make money, and move on. As if two presenters aren't enough they have now roped in a third! Come on Beeb, don't waste licence payers' money any longer, put us out of our misery, get shut, it's had its day.
Girlfriends (ITV) is another Kay Mellor hit (she can do no wrong in my book) that focuses on three lifelong friends played by Miranda Richardson, Zoe Wanamaker and Phyllis Logan. All have some form of crisis and they together solve them as only girlfriends do. The storyline is quite simple as most of Mellor's tales are, but the script is crisp, understandable and most of all plausible.
Still going strong on Sundays is Dragons' Den (BBC 2). The series has gone through its fair share of multi-millionaires over the years but it's still a really good watch. There's something more than a bit satisfying watching successful candidates sealing a deal with these astute business giants.
Death in Paradise (BBC1) has finally bagged the man for the part at the third time of asking as British cop Jack Mooney is now played by Ardal O'Hanlon. He has the right amount of clumsiness mixed with a thorough detective's brain to nail the villain.