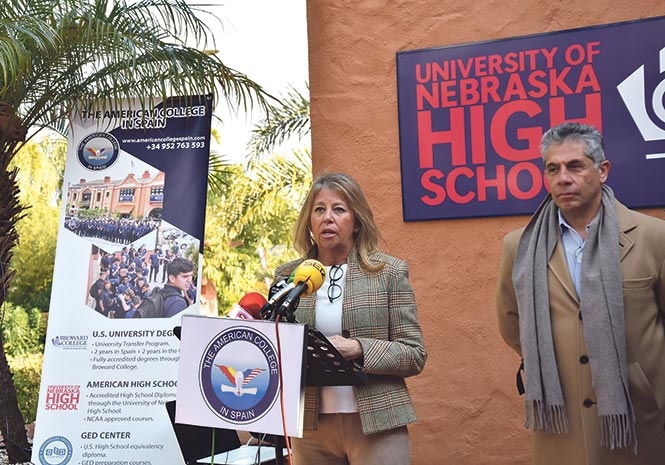 STUDENTS at the reopened American College in Spain are now able to earn a fully accredited US diploma. 
On Wednesday, the mayor of Marbella announced the changes at a ceremony to mark the official opening of the school's Puerto Banus campus. 
In partnership with the University of Nebraska High School, The American College in Spain is offering international students the possibility of obtaining a high school diploma outside of the USA. 
Mayor Angeles Munoz welcomed the changes at a glamorous event on Wednesday afternoon, before being shown around the renovated facility. 
The school say that their "high-quality, rigorous education courses meet the national academic content standards and Nebraska state academic standards." 
The idea is that students at the Puerto Banus School are able to use their qualifications for further education in the USA. 
The school charges fees of €11,540 per year. 
Also speaking at the opening was Francisco Campo, Marketing and International Expansion Director. 
He said: "It's not the typical American campus, but we strive for excellence in education. We are opening today and announcing officially the opening of the very first American high school programme in the Costa del Sol. 
"It's fully accredited in the United States, through the University of Nebraska high school. Our students – when they finish their studies in Marbella – can access any university in the United States, depending on their grades and the SAT, which is the American access to university exam."
Former students at the school have since gone on to study at various famous universities, including Harvard, Stanford and the University of London. 
Mr Campo, the Marketing and International Expansion Director, continued: "We work with very small groups and we have lots of students that have a sports background. 
"We have football players that come from the United States, because they know that Spain is the number one powerhouse in football and once they increase their level of footbal they go back with their studies, with their high school diploma and they can try to get into universities with some type of scholarship. We have golf players and of course we also have tennis players."
The current head coach of the Spanish national basketball team, Sergio Scariolo, also attended the event. 
Mr Campo added: "And we also have regular students and the programme is so good that I have enrolled my own daughter and she is about to graduate – almost with honours!"
For more information and registration, visit www.ameri cancollegespain.com or phone +34 952 763 593.