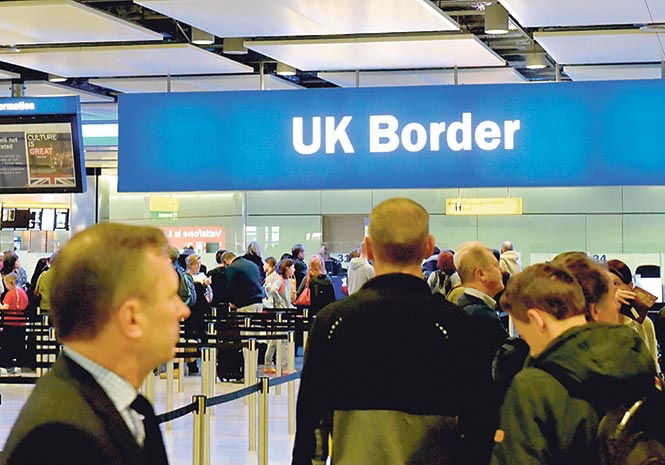 WASN'T too sure how to scribble this week; light or heavy? 
Do I attract the 'slings and arrows' or go for a few laughs? The hell with it, I'm opting for heavy (surprise, surprise)! 
The main reason is, that I am utterly sick of people reminding me that I am 'also an immigrant.' 
They sneeringly remark 'Has the irony escaped you?' after I have written some depreciating piece or commented on Europe and its immigrant problems. Well of course it hasn't. I'm not a moron. I am an immigrant, and one with no regrets whatsoever. All those years ago, disillusioned and broke, with a career in ruins and a young family to support, in 1975 I left my beloved UK and made tracks for Saudi Arabia. 
There I worked my proverbials off for some eight years. When I had saved what I considered enough, and with nothing to attract me back to the UK, I looked around and with some encouragement from a good friend, decided to settle in Spain. 
I brought in some 40K (no small sum in '83!) became a resident and invested in a (failed!) business. I've had four children here and all have been educated in the Spanish system. I speak the language (could be better!), have always paid my dues, and have integrated pretty well into the Spanish community. 
What I did not do, was to enter the country illegally, expect to be housed and paid benefits for doing nothing, insist that their schools fly the British flag or change their menu to suit my taste. I did not, create 'no go' areas, consider myself to be above local laws, mow down or slaughter innocent civilians while screaming 'Jesus is great' or scream racism when decisions didn't go my way. 
I have nothing whatsoever against immigration. I truly believe diversity to be both healthy and progressive. I do not however condone millions of ungrateful layabouts and fanatics, hell bent on screwing as much as they can from their host countries and trying to overthrow and change the culture by sheer weight of numbers and social upheaval. 
I do of course realise that many immigrants are not of this ilk and do contribute invaluable input to the societies they have adopted. But far too many do not. Until we cap the numbers of those wanting to enter the more successful democracies of Europe, vet them all far more carefully, strengthen our borders and insist on much higher standards, I'm afraid Europe is doomed to a future beset with conflict and problems that will result in chaos, misery and ultimate capitulation.
Unfortunately I feel it is already far too late.
Sorry to select 'heavy' again this week. Promise a measure of light next, ok? Thanks for all the mail and encouraging comments 'on the street.' 
Sorry also, that I can't reply to most missives, but I do read 'em all – promise.
Keep the faith.
Love Leapy   [email protected] ;