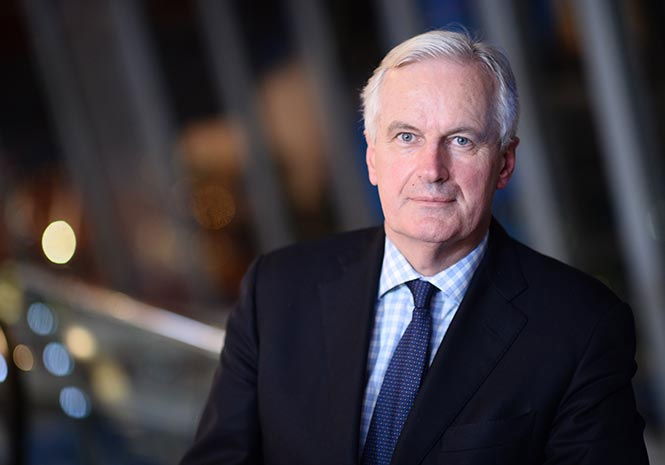 THE European Union's chief negotiator has said that Spain's demand for a say on Gibraltar's status following Brexit is "legitimate", reports say.
Michel Barnier, who is heading the EU's Brexit negotiations, says Spain should be allowed to discuss Gibraltar's relationship with the EU following Britain's departure.
Spain claims sovereignty over the rock, where over 96% of voters backed staying in the union during the referendum in 2016.
Mr Barnier was speaking to the Spanish parliament about Brexit, during a European Affairs Commission talk in Madrid.
He said: "What the Spanish government has asked for, and the other 26 countries have understood as a legitimate petition, is that a condition be imposed on the United Kingdom before any agreement in the transition period is also applied to Gibraltar.
"And that condition is that there should be a bilateral discussion between the Spanish government and the United Kingdom government."
He added that Gibraltar was not a prominent issue in the Brexit discussions.
"Gibraltar will leave the Union at the same time as the United Kingdom and, as such, it is not a point that figures in the negotiations, at least from my point of view," Mr Barnier said.
Spanish politicians told Barnier that they were concerned about the potential impact of Brexit on the Rock. He also met Spanish Foreign Minister Alfonso Dastis.
During the talks, Mr Barnier said a free trade agreement between Britain and the EU could be vetoed if the UK insists on breaking with European standards and regulations.
"The question is whether the British, as they leave the EU, will also leave its regulatory model in order to draw closer to the Americans or others," he said.
"It's an important question because it will determine the model for co-operation we adopt and the rules we will need to avoid regulatory competition or dumping.
"If we don't find a solution to this question, I can imagine that in many countries – starting with my own – there will be difficulties in securing ratification of a trade deal with the English.
"If we want to succeed – and I hope to succeed – we need to find a way to guarantee what is called in English a `level playing field'."
Mr Barnier has recently met with heavily pro and anti EU politicians from Britain.  
In Madrid for talks w/ ES government VP @Sorayapp MFA @AlfonsoDastisQ
Full convergence on where EU27 interests lie.

Important for me to meet also w/ Comisión Mixta UE @Senadoesp @Congreso_Es, trade unions@UGT_Comunica @CCOO & business representatives.#Brexit #transparency pic.twitter.com/H69BihYsic

— Michel Barnier (@MichelBarnier) January 23, 2018