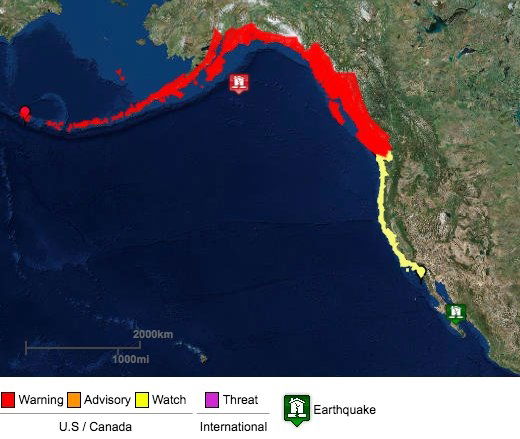 ONE of the strongest earthquakes in US history has put the entire west coast of America and Canada on tsunami alert.
The 7.9 magnitude earthquake rocked the Gulf of Alaska.
The earthquake struck about 175 miles southeast of Kodiak, Alaska, shortly after midnight local time, according to the United States Geological Survey.
Tsunami sirens sounded in Kodiak, and police warned, "This is not a drill."
They urged residents to head for high ground 'at least 100 feet above sea level.'
In San Francisco warnings have been issued for people to evacuate, if needed, if they are within three blocks of the Pacific Coast or within five blocks of San Francisco Bay.
WATCH: The Kodiak Police Department is warning residents to evacuate their homes and get at least 100 feet above sea level. #tsunami #tsunamiwarning #Alaska pic.twitter.com/PV904edbYW

— WeatherNation (@WeatherNation) January 23, 2018
Tue Jan 23 10:07:47 UTC 2018 event picture pic.twitter.com/qeKKqFTysB

— NWS Tsunami Alerts (@NWS_NTWC) January 23, 2018
Listen as sirens ring out over Kodiak, #AK. A #Tsunami Warning is in effect after a 7.9 #earthquake was recorded about 175 miles southeast of #Kodiak. Officials are asking those in the affected coastal cities to move to higher ground. Get more alerts here: @NWS_NTWC pic.twitter.com/QEAnaj8VfM

— AMHQ (@AMHQ) January 23, 2018