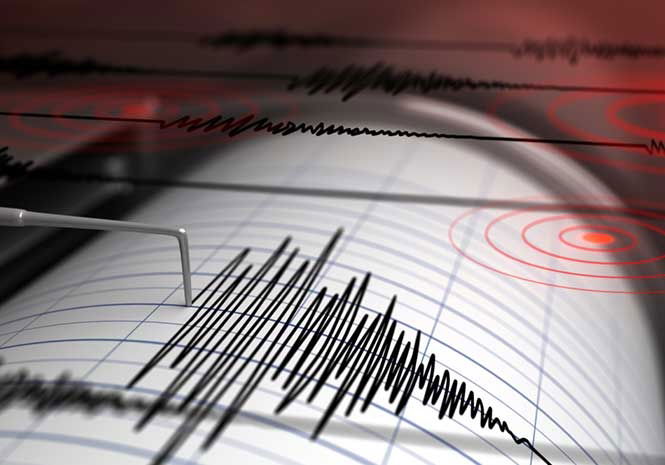 SPAIN has been gently rocked by a number of 'significant' earthquakes recently and the authorities have now released a short video to explain what to do in an emergency.
The animated film has been released by the Junta de Andalucia, but the advice holds good wherever you are.
During an earthquake
• If you're indoors, stay there. Get under – and hold onto a desk or table, or stand against an interior wall. Stay clear of exterior walls, glass, heavy furniture, fireplaces and appliances. The kitchen is a particularly dangerous spot. If you're in an office building, stay away from windows and outside walls and do not use the lifts.
• If you're outside, get into the open. Stay clear of buildings, power lines or anything else that could fall on you.
• If you're driving, move the car out of traffic and stop. Avoid parking under or on bridges. Try to get clear of trees, light posts, signs and power lines. When you resume driving, watch out for road hazards.
• If you're in a mountainous area, beware of the potential for landslides. Likewise, if you're near the sea, be aware that tsunamis are often associated with large earthquakes. Get to high ground.
• If you're in a crowded public place, avoid panicking and do not rush for the exit. Stay low and cover your head and neck with your hands and arms.
After an earthquake
o Check for fire or fire hazards. If you smell gas, shut off the main gas valve. If there's evidence of damage to electrical wiring, shut off the power at the control box.
o If the phone is working, only use it in case of emergency. Likewise, avoid driving if possible to keep the streets clear for emergency vehicles.
o Be aware that items may fall out of cupboards when the door is opened, and also that chimneys can be weakened and fall with a touch. Check for cracks and damage to the roof and foundation of your home.
o Listen to the radio, television and check media websites for important information and instructions. Remember that aftershocks, sometimes large enough to cause damage in their own right, generally follow large quakes.
o If you leave home, leave a message telling friends and family your location.
Each year, between 1,200 and 1,400 tremors are recorded in the Iberian peninsula. Usually, they measure no more than 4.9 on the Richter scale, while one registering 5.0 or above occurs once every three and a half years or so.
Andalucia is one of the provinces that most regularly feels tremors but here's a list of the most significant earthquakes in Spain through history.
Date: 881 – Magnitude:7.2 (estimated) – Location: Gulf of Cadiz, Andalucia
Date: 21 March 1829 – Magnitude: 6.6 – Location: Torrevieja, Alicante. There were 389 deaths and 377 injuries.
Date: 25 December 1884 – Magnitude: 6.2 – 6.5 – Location: Arenas del Rey, Granada. Arenas del Rey was totally destroyed and more than 1,200 people died.
Date: 19 April 1956 –  Magnitude 5.0 – Location: Albolote, Granada. Twelve people died.
Date: 29 March 1954  – Magnitude: 7.8 – Location: Dúrcal,  Andalucia. This earthquake caused property damage in Málaga. It was felt in Madrid, Granada and Cadiz, Spain; Tangier, Spanish Morocco, and Casablanca, French Morocco. The depth was 640 kilometres.
Date 11 May 2011 – Magnitude: 5.1 – Location: Lorca, Murcia. This earthquake caused damage to a clock tower and old buildings. The depth was estimated at ~1 kilometre. A bridge on the A7 road collapsed. The earthquake was also felt in cities as far away as Madrid, Cordoba and Valencia. Nine people died and 403 were injured.
Date: 25 January 2016 – Magnitude: 6.3 – Location: Alboran Sea. 26 people were slightly injured in Melilla, and there was some damage to buildings. It was also felt in Andalucia.
On November 1, 1755, an 8.5-magnitude quake originated in Portugal creating a 15-metre tsunami that hit Western Europe and northern Africa, marking the greatest quake-related tragedy recorded in Spain, according to the National Geographic Institute. It caused massive destruction in the Portuguese capital, where an estimated 15,000 people lost their lives, but the Spanish provinces of Huelva and Cádiz in Andalucia were also affected.
1⃣1⃣2⃣ ¿Sabes cómo actuar en caso de #terremoto? Mira este vídeo y tendrás de primera mano útiles #Consejos112 para protegerte y, en caso de emergencia, no dudes en llamar a 1-1-2 @E112Andalucia ? pic.twitter.com/0TNWlrS3Pt

— Junta de Andalucía (@JuntaInforma) January 21, 2018