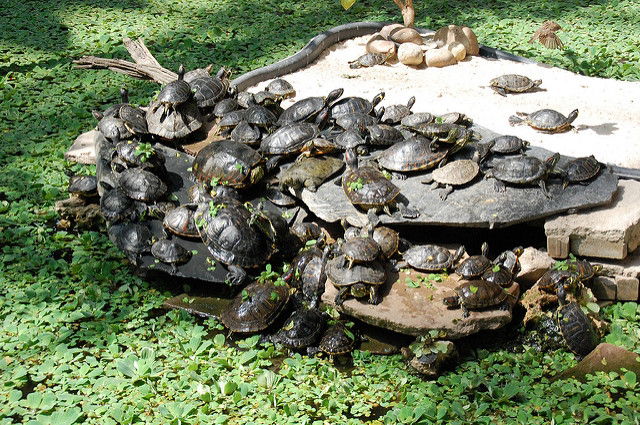 MADRID's Atocha railway station is set to lose its famous turtles, who have faced such overcrowding that they turned to cannibalism. 
The capital's largest rail station is well known for hosting the group of roughly 300 animals, who have become a firm favourite with locals and tourists. 
But, according to The Local, overcrowding and sanitation problems have become such an issue that the bale of turtles are facing permanent eviction. 
Animal rights campaigners have long criticised the conditions faced by the turtles. Some of the animals have even reportedly turned to cannibalism to keep the population down. 
Staff at the station regularly have to remove dead or injured turtles, the majority of which are an aggressive and territorial species known as red-eared sliders, according to reports. 
Adif, a Railway infrastructure firm, have reportedly announced a plan to transfer the group to wildlife park east of Madrid. 
Their new home will be almost double the size of their current enclosure. 
The reptiles' home is set to be concreted over when they leave.
In 2004, the station was the scene of a terror attack which killed 191people and wounded 1,800. As a tribute to the victims, a memorial was erected in the building.