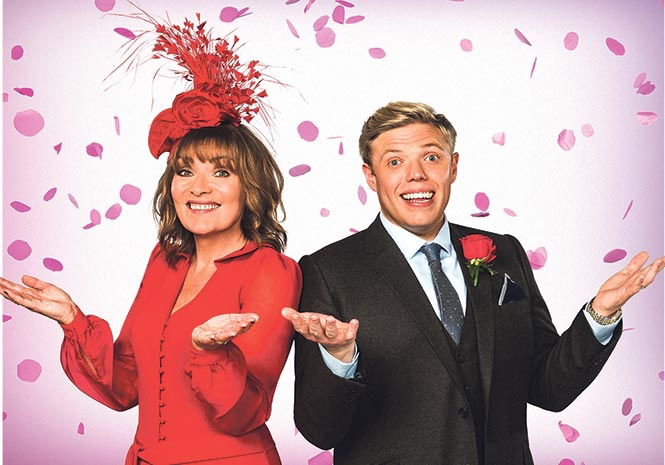 WHAT on earth are Lorraine Kelly and Rob Beckett doing accepting BBC1's offer to host Wedding Day Winners on Saturday evenings? If you haven't caught this weekend horror show, well done, I wish I hadn't stumbled upon it. 
The concept, format and execution are truly terrible. Apparently, we all want Lorraine as our Boss, but even she looks alarmed at some of what she is asked to do and at other times she looked bemused by what Rob is doing. 
The format pits couples and their families against each other to win (some pretty uninspired – a food mixer, really) presents and ultimately a wedding live on TV and a honeymoon. Thankfully the honeymoon isn't live on our screens. 
The show is a cross between It's a Knockout, The Generation Game and Take me Out. The couples, bridesmaids and guests are made to humiliate themselves on primetime TV, with Rob and Lorraine constantly trying to convince everyone that they are all having a wonderful time. They night be, I didn't.
In a completely different space to Wedding Day Winners, I hope that you are following Hard Sun on BBC1. This is a thriller set against the backdrop of a solar storm set to destroy the world in five years' time and naturally the government wants to keep it all secret. 
Agyness Deyn and Jim Sturgess star as DI Renko and DCI Hicks – just a thought, but couldn't Agyness have been the senior rank? This week our hero duo persuaded a journalist to publish the solar storm story and the government is forced to deny anything is wrong, turning the story into a joke. 
Separately, Hicks tried to catch a multi killer. Given the amount of blood spilled I hope that this storyline doesn't continue much longer and given that the clock is ticking for everyone, fingers crossed it doesn't. Don't take this one too seriously and it makes a solid round off to your Saturday night. 
ITV1 are showing Transformation Street on Thursday evenings. Hats off to them for this one. The programme doesn't patronise or shock and is all the better for it. 
There are some surgical scenes but these are correctly dealt with as day to day elements of individual Transformation Journeys. There is a positive approach to sometimes painful stories, without any apology for the refreshing way this programme educates and shows us the highs and lows of a diverse range of journeys. I will continue to watch. 
EastEnders, BBC1 weekdays, is leading the Soaps New Year Charge. Tamzin Outhwaite has returned to The Square, bringing Mel Owen back to the East End after an absence of 16 years. Mel's return was via a 'nice to be back' to Ben Mitchell, who probably had no idea who Mel was, 16 years is a long time to your average young man. 
Mel looked shocked at just how much weight ex-husband Ian has accumulated, throw away anything with a horizontal stripe Ian, but Mel really only had eyes for the diamond necklace around Kathy's neck. Mel's return looks set to be slow burn rather than explosion, but it will build as the days slowly get longer I'm sure. 
Channel 4 and Penelope Keith are currently guiding us through the search for village of the year. The team gallop us through four villages each day and we get to know which will make the semi-finals from the Western Zone (where did Regions go I wonder…) on Friday January 19. Sadly we can't nominate Spanish villages, or I would be putting mine forward immediately.