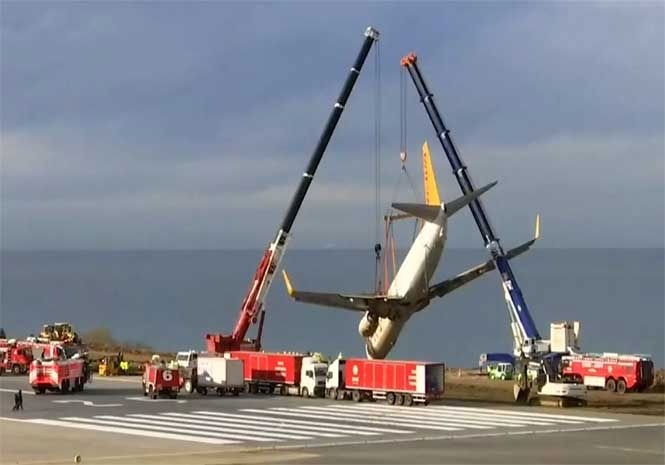 RECOVERY teams are working to recover the aircraft that skidded off a runway and was left dangling precariously on a cliff face above the Black Sea last weekend.
Amazingly all 162 passengers and crew on board the aircraft were evacuated safely and no-one was injured.
The Pegasus Airline flight PC8622, operated by a Boeing 737-800, was flying from Ankara to Trabzon Airport in Turkey.
In a press statement at the time Pegasus Airlines said, "We're sorry to report that the Boeing 737-800 type TC-CPF registered aircraft of Pegasus Airlines Flight Number PC 8622 Ankara-Trabzon flight scheduled at 18:25 UTC tonight, had a Runway Excursion Incident during landing at Trabzon Airport (13 January 2018). All 162 passengers, 2 pilots and 4 cabin crew have been disembarked safely from the aircraft. There has been no loss of life or injury to anyone on-board."
The pilots of the airplane have reportedly told authorities that the right engine had "accelerated" after landing, causing the plane to skid towards the left.
"The plane made a normal landing. Once we came to the end of the runway, we tried to manoeuvre to the right. Just as we were about to manoeuvre, the right aircraft engine started to accelerate. The plane should have gone right, but because of the right engine, it suddenly started going leftwards and went down the slope in the direction of the [Black] Sea."
Today engineers began the difficult operation to lift the aircraft from the muddy cliff face above the freezing sea.
RELATED ARTICLE: WATCH: Plane skids off runway and dangles above sea on cliff edge
?? Les opérations de relevage du Boeing 737 de Pegasus ont débuté à l'aéroport de Trabzon. pic.twitter.com/hloEjN7aV0

— air plus News (@airplusnews) January 18, 2018