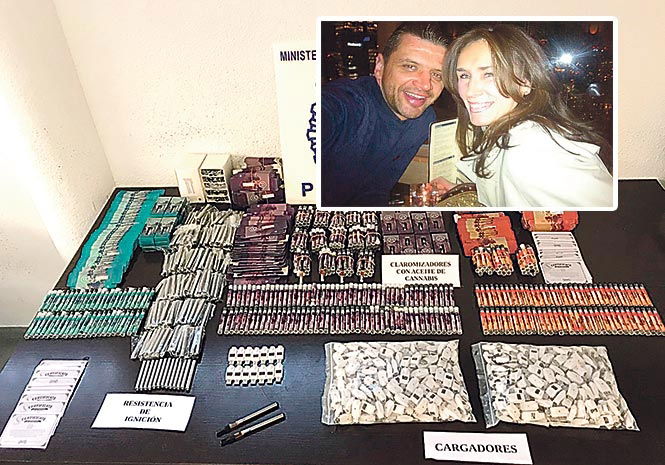 THE husband of a British mother-of-two whose body was found on a Costa del Sol beach was allegedly exporting cannabis-laced e-cigarettes from Spain.
Essex-born Paul Muldoon, 33, was initially held over an alleged €900,000 boiler room fraud, which reportedly involved convincing pensioners to invest in a shady rare metals scheme.
But when investigators swooped on his rented Marbella office they unearthed over 400 e-cigarette vaporisers containing high levels of cannabis oil.
They were imported illegally from California and sold onto smoking clubs in the UK, according to detectives.
A body which washed up on a Marbella beach on Sunday is believed to be that of Mr Muldoon's wife Rebecca, 35, who vanished on January 2.
He was first taken into custody on New Year's Day after neighbours reported shouting and screaming coming from the couple's penthouse apartment in the Vigil de Quiñones neighbourhood.
But he was freed after his wife failed to attend a hearing, with investigators confirming that he was in jail when she went missing.
The court was unaware that Mr Muldoon was on the UK's most wanted list, and he had been on the run since last April.
He later turned himself in after being advised that a European Arrest Warrant had been issued in his name and now faces extradition.
His name was added to the Crimestoppers website since after he ignored a court summons relating to a con in which he and a gang of accomplices tricked elderly people into investing in rare metal compounds used for LED lights and lasers.
He allegedly skipped bail in 2013 during a probe by Surrey police after an 83-year-old widow claimed she had been duped out of €264,000.
A post mortem examination will confirm the cause of Rebecca's death after her body was found by a female jogger on Oasis beach 12 days after she disappeared.
Although detectives are still awaiting the results of forensic tests to confirm her identity, they recognised her from photos and her clothing, according to reports.
A search was launched after a neighbour spotted her two children, aged 8 and 11, alone on the roof of their home.
And a Spanish police official said that initial findings suggest that she committed suicide by drowning, with no signs of physical violence on her body.
Originally from Southend-on-Sea, Essex, she is believed to have married Mr Muldoon in the United States several years ago before settling in southern Spain.
Her children are back in the UK after family flew out to collect them before launching a Just Giving online appeal to help repatriate her body.
It has already raised almost €4,000 of the €9,600 target.
Sister Sabrina, who called Rebecca Twinx, wrote on the page: "We was sadly informed as a family that Twinx had been taken from us on the 14th January 2018, leaving behind her beautiful children Mustie 11, Matilda 8.
"She was an easy going girl, who everyone loved. Everyone has their own memory of her and that will live on.
"We as a family ask for the support of everyone that knew her, to help raise funds of repatriation and giving her the send-off she deserves, and the final farewell from her children, family and friends."
You can go on to the JustGiving page by clicking here.