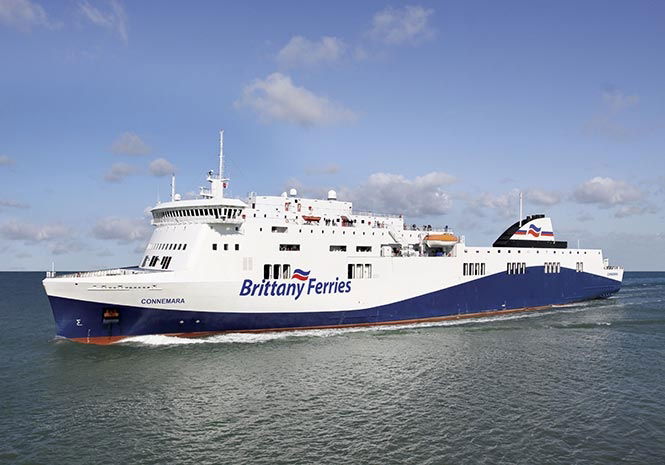 IRELAND and Spain are set to be connected by a direct passenger ferry service for the first time.
Freight companies hope that the new routes can also ease trade fears post-Brexit.
Brittany Ferries say they will sail from Cork to Santander and back twice a week, on a boat with a 50-50 split between freight and passengers. They add that they will have space for around 500 passengers and 200 cars.
The "no-frills… Spanish theme" crossings are expected to take 26 hours and depart on Wednesdays and Fridays (returning on Thursdays and Saturday). Prices are yet to be announced. 
Sales are expected to begin at the end of the month, before services set sail at the back end of April, according to the company. The link will reportedly run between April and November.
Santander, in Northern Spain, is a short drive from Bilbao and San-Sebastian, at the tip of the country, near the French border.
ROUTE MAP: Brittany Ferries' updated list of services ©Brittany Ferries
The newly chartered Connemara ship will also serve Cork to Roscoff, France, with a weekly return trip.
The company say passengers will have access to a small shop, café-bar and passenger lounges. The ship will be dog-friendly, they add.
The inclusion of freight means that the Spanish can bypass Britain when transporting goods between the two countries, which could be beneficial following Brexit.
There are fears that the British ports could be hit by severe customs queues following the country's withdrawal from the European Union in March 2019.
"This is a significant move for Brittany Ferries, offering haulage companies a direct route to Spain and passengers a far greater range of holiday options from Cork," said Hugh Bruton, general manager of Brittany Ferries Ireland.
"As a destination so-called green Spain promises visitors a wealth of opportunities. It hosts sweeping sandy beaches, snow covered mountains just an hour from the port, fabulous food and offers visitors a welcome as warm as the Spanish will receive when they join us in Ireland."
Welcoming the service, Captain Michael McCarthy, Commercial Manager at the Port of Cork, added: "We are delighted that our long term customer, Brittany Ferries, has committed to this new service which will see an increase in tourism and freight. 
"The option for freight carriers to bypass the UK land bridge will be seen as very attractive, as Brexit uncertainty continues. We have no doubt that both exporters and importers will make this a viable service."
Chief executive Christophe Mathieu said: "Green Spain promises visitors a wealth of opportunities, whether they travel with us from the UK or Ireland.
"However, this new route will also present more options to freight companies operating throughout Ireland, Spain, Portugal and southern France."
Last year, there was two million visits to Spain from Ireland, according to reports.