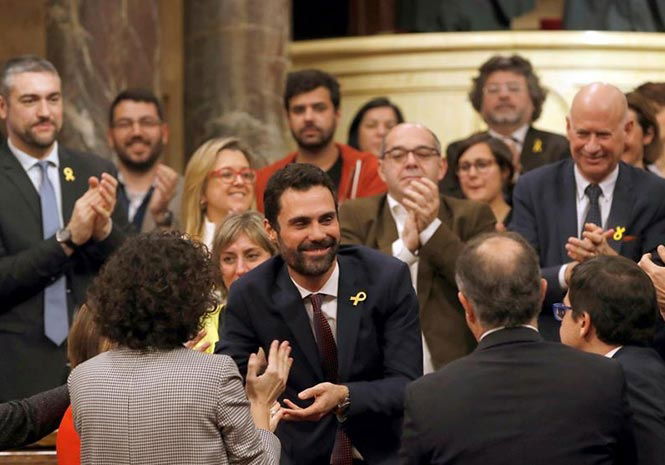 THE Catalan parliament is being sworn in amid continuing confusion about who will become president.
A number of representatives were absent from the opening, including the deposed president, Carles Puigdemont, and jailed vice-president, Oriol Junqueras.
That has reduced the pro-independence majority, but they can still scrape together a workable coalition.
There is now a period of two weeks to nominate a president.
Some independence supporters remain hopeful that Puigdemont could be sworn in as president over video link.
But lawyers for the Catalan parliament council have said that ruling while in exile would go against the Spanish constitution. The Prime Minister, Mariano Rajoy, has also spoken out against the idea.
Puigdemont fled to Belgium when Spain dissolved the regional parliament and called snap elections. The national government's move came after an unauthorised independence referendum prompted the regional government to declare independence.
Various politicians were arrested, and some – including Puidgemont – had warrants issued for their arrest.
Unlike some colleagues, Junqueras was denied bailed.
Last month's election failed to provide a decisive result, with separatists retaining a slim majority in parliament, but not taking over 50% of the result.
A pro-unity party, Ciudadanos – led by Ines Arrimadas – won most seats.
Arrimadas has said she would "love" to become president and does not expect the pro-independence parties to come to a workable agreement.
Earlier today, Roger Torrent, 38, from Junqueras' ERC party, was elected speaker.
He beat a Ciudadanos rival to become the youngest person to ever hold the office.