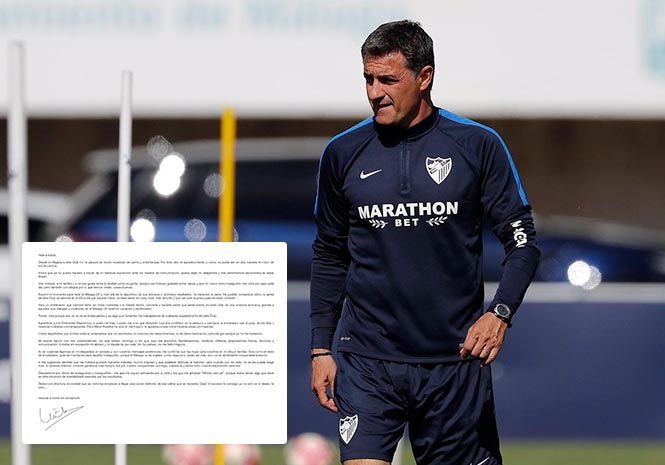 FORMER Malaga boss Michel has penned a letter thanking fans and members of the club's staff for the 'best of memories' during his time with the club.
The 54-year-old was let go by Los Boquerones after the side's 1-0 lost to Getafe on Friday following a poor run of results that have left the club's La Liga future in doubt.
Malaga's loss was their third consecutive 1-0 defeat, which left the team joint bottom of La Liga on just 11 points.
But after being let go the former coach has taken to social media to thank people for their support during his tenure.
The letter, which was posted to twitter with the comment "Thank you everyone", said: "Since my arrival at this club, I have not stopped receiving samples of affection and teachings. For all my gratitude and, as it could not be otherwise, the best of memories.
Gracias a todos. pic.twitter.com/efhHdHSHWZ

— Míchel (@MichelGonzalez) January 15, 2018



"For a coach, who always has the hours counted and the suitcase made, value you and make you feel that you will be eternal in this Club, it is an exclusive experience thanks to those who work and collaborate in the Málaga CF joining vocation and feeling.
"Take note because that is not seen everywhere and is something that encourages the workers of any department of this Club.
"Thank my Sports Directors, who brought me and who had to fire me. The two trusted the person and valued the coach over the days and our many conversations. For Mario Husillos has been the bad drink and I thank you to make it happen without trauma.
"As athletes we are still, we accept that the results do not know about merits, nor full dedication; only of the goal although we no longer put it.
"My eternal debt to my collaborators, those who came with me and those who met here; physiotherapists, doctors, kit people, physical trainers, technicians and communication. To all without exception my hug and my debt for life. 
"Seeing your tears in my farewell in private and with your subsequent messages, confirms that there is room for you in my family album. You are like the rest of the employees, who maintain this malaguista spirit, because Málaga is not yours as a business or a way of life, but as an unbeatable feeling as a Boquerón.
"I told my players that I would have liked to make them better, much better and that they could enjoy it to the fullest, but when you give everything, you cannot demand more. If those who were in charge had more patience, it was your commitment to me, your faith and especially your willingness every day.
"Saying goodbye to malaguistas and malagueños – those who continue to cheer me on the street and those who shouted at me "Míchel go now" – because everyone has something to say in this situation of instability marked by the results.
"I wish with absolute sincerity that the victories begin to arrive to be able to enjoy that calm that is needed. I hope my successor gets it; I do not just want it, I believe it…
"Thanks to all without exception
Míchel."