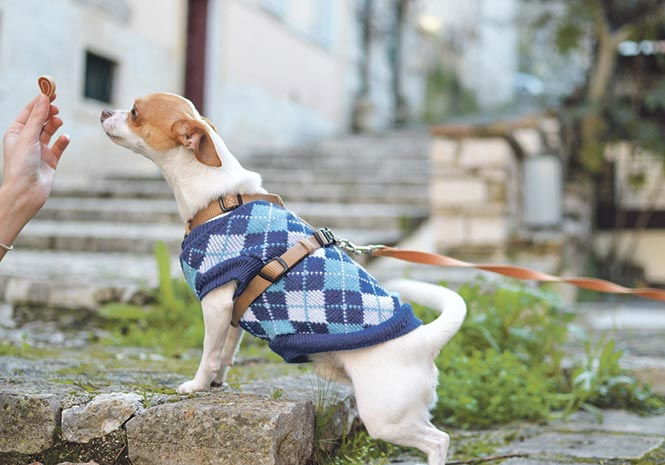 IF you give your dog a command – even a simple one like 'sit' – then the reward of good dog is given as the dog's bottom hits the ground.  Just a verbal praise given in a light happy voice can be enough for most dogs.  
Sometimes people will use food or a motivator for this reward system.  I believe if you have used treats for a couple of months, a dog will now be content with the bright happy voice which should be sufficient for such a simple command.
As your commands become more difficult for the dog to achieve you can always up the reward, especially if you are doing scent work.  A motivator that the dog really loves can now be used such as that special ball or toy.  Most professional working dogs are rewarded in this manner as soon as they have found something.  This reward for work well done is a must.  
Whatever you use, you only have a split second to give it on completion of an exercise.  Personally I like to use my voice and a quick touch under the chin as my rewards. I always have my voice with me, so it is always on hand, where a different type of reward may not be with me at that crucial time.  
Think about the dolphin which performs in a show.  He is being taught to jump out of the water.  If he jumps about two metres, he gets a small whistle to call him back, and when he returns to the edge of the pool he is in, he gets a small fish.  
As his training increases, and he jumps about six metres or more out of the pool, he gets a huge instant  whistle while he's at the top of the jump, which brings him swiftly back to the pool edge where he gets a bucket of fish as his reward.  
The timing of any reward is important.  (If your timing is out, you may be rewarding for the wrong action.) Watch the height he jumps from there on.  The reward is always there for him immediately and will he give his best every time.