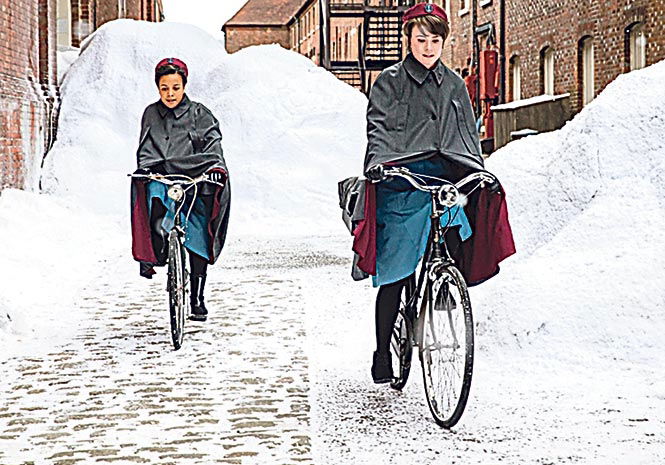 THE final tally for the Christmas Day ratings battle is in and it turns out plenty of us had a sweet tooth, as a very syrupy 'Call the Midwife' special takes the crown.
Overnight ratings had 'Mrs Brown's Boys' as the most-watched show live on the big day, but now that the figures consolidating all the repeats, recordings and on-demand viewings have been released, we can get the full picture. 
In a handy graphic uploaded by PA's Ian Jones, we can see what came where in the consolidated top 10, and how many millions of us tuned in: As you can see, the BBC (specifically BBC One) nabs seven spaces in the top 10 and the entirety of the top five, with 'Strictly Come Dancing,' 'EastEnders' and 'Doctor Who' all beating ITV's top performer of 'Coronation Street.'
Jones notes that both 'Corrie' and 'Emmerdale' are both down a million viewers (ish) when compared to Christmas Day in 2016. On the other hand, 'Call the Midwife,' 'EastEnders' and 'Doctor Who' (which was Peter Capaldi's swansong and the five-minute debut of Jodie Whittaker) all slightly improved in their ratings. 
Elsewhere in the top 10 we've got 'Victoria,' 'The Highway Rat' and 'The Queen's Speech' – where Her Majesty referenced her original festive TV broadcast and also kind of a series two episode of 'The Crown.'
If you would like me to answer any questions you may have on satellite TV or to expand on anything I have written about please call me on 678 332 815 or email richard@europa-digital.com. I look forward to your comments and questions.  
Don't forget to listen to my radio show every weekday from 10am on Spectrum 96.1 and 106.8FM, now covering almost 3,000sq kms of Costa Almeria and Calida or listen online at costaalmeria.spec trumfm.net for the latest news and views from the world of satellite television.