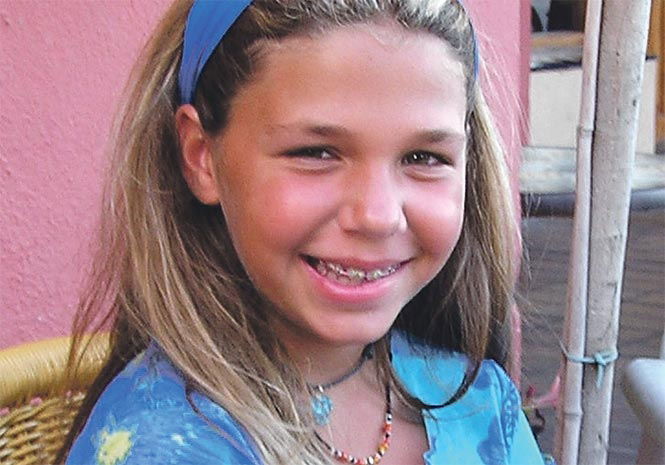 BY the time our daughter was nine she still couldn't read, although at the age of six she was working as hard as any university student.  She studied all summer, every summer, to try and catch up.
We watched our precious little girl withdraw further into herself.  We went from eye specialist to brain surgeon in search of a solution to an unknown problem.  Her self-confidence was at an all time low and our nerves at a record high.  
We first heard of ChromaGen lenses when my parents read in the Daily Mail about 'Miracle Glasses.'  Desperate for any help we flew from Madrid to the manufacturing laboratory in the UK the very next day.
"Mummy, the words have stuck to the page," she said when she reached her combination of lenses. "Where were they before?" I asked.  
She jumped up and startled wriggling around.  "Without the glasses the words moved like this, like children in the playground.  When I put them on it's like the words have gone into the classroom, sitting down in neat rows."  Stupefied I asked her why she had never told us this before.  Her answer was so simple it hurt "I didn't know they weren't mean to."
Of course, she had never seen anything else. To her it was normal. 
At the age of six Ashley had said that her words moved and we took her to a local optician.  She was prescribed with a graduation but she didn't use the glasses. An eye specialist told us she didn't need a change of glasses, rather a change of attitude.  That night when I went to tuck her in I found her banging her head against the wall "I'm stupid" she was saying, over and over. 
Years later she explained her desperation that night; she thought she was intelligent and couldn't see well, but the 'doctor' had said she could see perfectly.  Being clever, her conclusion was that she was crazy.  That was the day she gave up on herself.
You can imagine how as her mother I can never forgive myself for believing that optician over my daughter. That optician, too busy in his day to day to be up-to-date, I was so wrong to trust him. If I had listened to her, believed her when she said the words moved and kept searching for a solution, it wouldn't have taken another three years to find ChromaGen, three years of such suffering.
This is why when challenged by Ashley to help other children who can't read by bringing ChromaGen to Spain we couldn't refuse, but it's only thanks her that there are now over 100 opticians in Spain where children can be tested with ChromaGen lenses.  
Ashley couldn't have done more to help save your children, but parents, it's entirely up to you to do something about it.
Make an appointment at Optica 2000 at El Corte Ingles Malaga, Puerto Banus and Cartama. 
@MarbellaNow
www.marbellanowtv.com