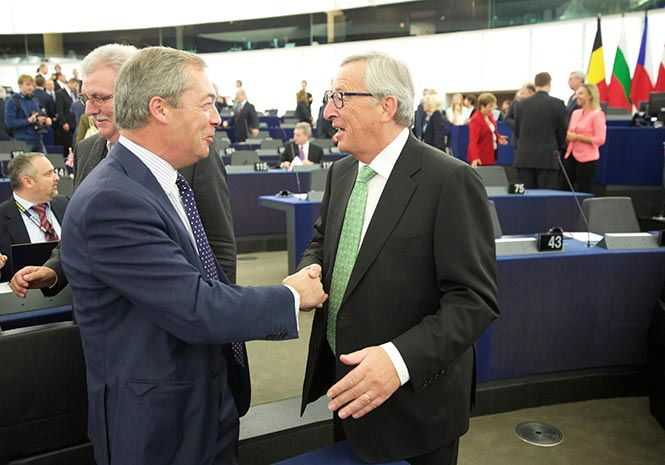 SUE WILSON, Chair of Bremain in Spain a group campaigning for the UK to remain in the European Union and to protect the rights of British migrants living in Spain, comments on Nigel Farage's suggestion re holding a second referendum on the UK's membership of the EU.
She says: "When I first read Nigel Farage's comments last week regarding a second referendum, I thought there was a mistake. When it became clear that he really was advocating giving the British public another bite at the apple, I couldn't help being suspicious of his motives.
Could Farage really believe the Leave camp would win if we re-ran the referendum or was this just another publicity stunt? When Aaron Banks then reiterated Farage's call, I wondered about their intentions. Are they really so confident about the outcome, despite the swing towards Remain in many recent polls?"
She continues: "It seems that Farage's suggestion is for another in/out referendum – not something I would personally advocate. However, I support the idea of another referendum once the outline of a deal is known. Or, as Vince Cable describes it, a referendum on the facts."
"One thing that may have surprised Farage, despite some backpedalling on his part, was the wholehearted support for a second referendum from Remain supporters, such as Lord Adonis and Nick Clegg. This led to a flurry of activity on social media. While the Remain movement's attitude was 'bring it on', the Leavers, by comparison, were remarkably silent on the subject."
"All the talk of the public having another say is incredibly frustrating for Britons in the EU who are still without a vote. Promises to restore 'Votes for Life' to one million Brits abroad – votes denied after 15 years outside the UK – have been broken so many times by the Tory government that we have all become cynical.
"Bremain in Spain will shortly be launching a lobbying campaign in advance of the second reading of the Private Member's Bill of Glyn Davies, MP, on 23 February. Even if the bill is successful, all that is being proposed is that voting rights would be restored by the next scheduled election in 2022 – i.e. too late for those wishing to vote in any further referendum on Brexit.
"It was horrendous to be denied the vote in the referendum. To be denied again, if the opportunity arose, would be cruel when the outcome of any vote could have a significant impact on our futures here in Spain."
Wilson concludes: "With May and Corbyn both adamantly opposed to giving the people a final say, perhaps another referendum is a long shot. Give it a few months, however, and I predict that the odds will shorten considerably. I am not a fan of referenda and the prospect of giving the British public the final say on such a momentous decision is frightening, especially after what happened on 23 June, 2016.
"However, it is important to keep all options on the table and, despite my concerns, giving the people the final say might be our best hope of stopping Brexit altogether. In the event of a likely Remain win, I would take great pleasure in being able to throw 'the will of the people' back at the Brexiters, who have been shoving it down our throats for many months."