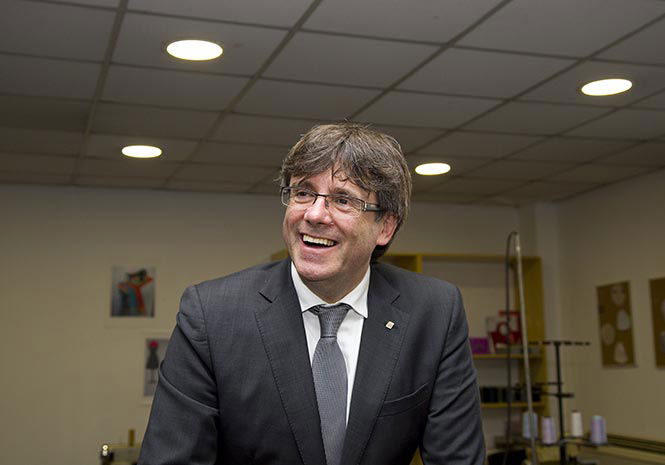 PRO-INDEPENDENCE parties have agreed an unprecedented deal to attempt to reinstate the deposed president Carles Puigdemont.
With the Catalan regional parliament due to be sworn in next Wednesday (January 17), the two largest separatist parties – Puigdemont's and his former number two – jailed Oriol Junqueras – have agreed a coalition deal.
They will be propped up by four anti-capitalist representatives, who have said they will support a "republican government".
But the suggested arrangements for Puigdemont's return are virtually without precedent.
With the separatist leader currently in Belgium – where he fled after the Spanish government dissolved the Catalan parliament – the logistics of the move are complicated.
He faces arrest as soon as he returns to Spain, on charges of rebellion, sedition and misuse of public funds.
A party spokesperson reportedly said they were therefore investigating whether he could take up the post through videolink. The possibility of one his MPs reading the speech required of presidential candidates is also being explored, according to reports.
Puigdemont has previously said he would only return to Spain if offered certain "guarantees." Yesterday he said "it is not possible to return to Catalonia".
Meanwhile, Puigdemont's coalition partner Junqueras remains in jail after a Spanish judge recently ruled that there was no evidence to suggest he would not repeat the crimes he is accused of.
Other members of their former cabinet were bailed.
In last month's regional election – called following an illegal referendum and a declaration of independence – the pro-unity Ciudadanos party won 37 seats. That put them ahead of Puidgemont's party on 34 Junqueras', on 32.
Separatists won 47.7% of the vote and retained a three-seat majority in the elections last month.
There have been repeated rumours of tensions between the separatist groups.
Earlier this week, the Ciudadanos leader, Ines Arrimadas, said she would "love" to become president and predicted separatists would not form a government. 
"If they (pro-independence parties) are unable (to form a government) – and chances are high that they will be unable to – we will then be under the obligation to propose an alternative of our own", she told El Pais.
"It's not clear to me at all that separatists are going to reach a deal, with some of them fleeing from justice, others in Brussels, others in prison… we know what we're doing.
"I would love to be able to lead the government in Catalonia."