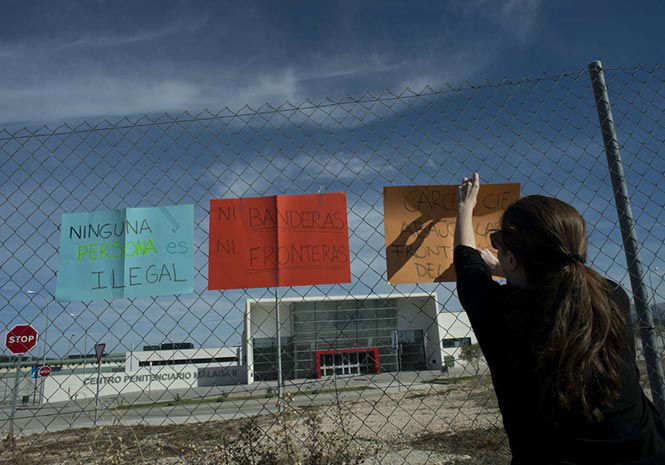 HUNDREDS more migrants are being deported from Archidona prison amid accusations that the authorities are removing potential witnesses to the death of Mohamed Bouderbal.
Video footage shows activists protesting the removal of the mainly Algerian migrants from the facility, where between 464 and 570 people were originally imprisoned in mid-November. 
Some were restrained by police as the coaches pulled away. Others cried.
#ESPAÑA Desde la muerte de un migrante, Mohammed Boudalbala, el Ministerio del Interior ha expulsado a más de 300 personas de la cárcel de Archidona #CIErraArchidona pic.twitter.com/2eEzlGQM7d

— Sergio Rodrigo (@SRodrigoruiz) January 8, 2018



The Spanish journalist Sergio Rodrigo claims that over 300 migrants have been expelled since Bouderbal's mysterious death.
Police claim he committed suicide, while activists, inmates and family members accuse them of severely beating him shortly before he died.
The Algerian government have told the APS news agency that they are investigating the death.
The United Nations have previously condemned the Spanish authorities over their use of the prison, which is not scheduled to officially open until later this year.
The government has faced accusations of police brutality and illegal action, amid condemnation from rights groups. A riot broke out last month.
Bouderbal's brother is reported to have seen his brother's remains – after a legal battle – but a plastic bag was allegedly covering the whole body except his face.
An Algerian television station accused the police of beating him to death, while inmates say he was kicked in the head and face. However, the preliminary results of an official Spanish enquiry suggested the police version of events was accurate.  
Police say he was found hanged in his room. Video footage appears to show the 36-year-old lying on the ground in the prison. 
According to the APDHA human rights group, the vast majority of migrants have been returned to Algeria. They claim 107 are still imprisoned, 18 have been moved to a Tarifa centre, 10 to an Algeciras centre and a number of children – thought to number at least nine – have been taken into care.
There have also been accusations that deliveries of warm clothes were denied, despite snow falling on the prison.  
Hoy he visto gente impotente, enrabiada, llorando, gritando, indignada ante las deportaciones, pero sobre todo he visto los ojos de la #solidaridad. Gente que sabe lo duro que es migrar a Europa y que quiere un mejor lugar común… #CIErraArchidona https://t.co/ZdvK3TRaf6… pic.twitter.com/hv0g48Ajgw

— Sergio Rodrigo (@SRodrigoruiz) January 7, 2018