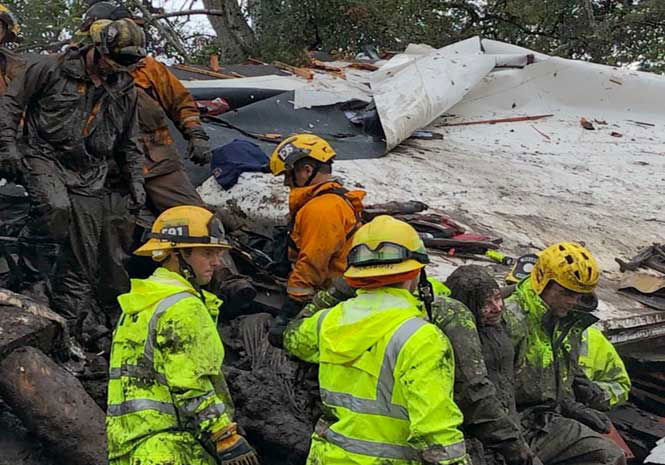 HEAVY rain has triggered devastating mudslides in America leaving at least 13 people dead with officials likening the scene to a 'World War One battlefield'.
Officials are warning that the death toll is likely to rise as the search for survivors continues and an unknown number of people unaccounted for.
Worried relatives have taken to posting appeals on social media to trace their loved ones.
Heavy downpours sent a sea of mud, boulders and tons of debris rolling down hills – destroying dozens of homes, demolishing cars and toppling trees.
Montecito, one of the areas hardest hit by the mudslides, is a wealthy enclave of about 9,000 people.
Bill Brown, the sheriff of Santa Barbara, said, "The best way I can describe it is, it looked like a World War One battlefield.
"It was literally a carpet of mud and debris everywhere with huge boulders, rocks, downed trees, power lines, wrecked cars, lots of obstacles and challenges for rescue personnel to get to homes, let alone to get people out of them."
More than 50 people were rescued from rooftops because trees and power lines were blocking roads.
Mandatory evacuations had been ordered in parts of the county but it is believed only 10% to 15% of residents actually heeded the warning.
US Coast Guard helicopters are being used to rescue 300 people who are stranded in a canyon.
#CAStorm – Firefighters rescue a girl who was trapped in Montecito following heavy rain and mudflow in the 300 block of Hot Springs Road. pic.twitter.com/tfUw0cDbXx

— SBCFireInfo (@EliasonMike) January 9, 2018
#CAstorm– Firefighters successfully rescued a 14 yr old girl (right) after she was trapped for hours inside a destroyed home in Montecito. pic.twitter.com/QawiGpYbWu

— SBCFireInfo (@EliasonMike) January 9, 2018
MISSING IN MONTECITO

Summer and Sawyer Pls Retweet#MontecitoFlood pic.twitter.com/9b8p4rymYv

— Megan Taylor (@BellaMegtaylor) January 9, 2018
I'm looking for my grandparents, James and Alice Mitchell. Their residence was at 319 Hot Springs Rd and the home was destroyed. I'm hoping someone out there has seen them in the evacuation shelters and can give us some info. #CAStorm #Montecito #MontecitoFlood pic.twitter.com/V1RrYkjiYi

— megan (@OssumBunz) January 10, 2018
My friends daughters are missing! Please help find them. A mudslide devoured their home at 3am.
Sawyer (12) Morgan (25)
????????????????
Last seen
1231 E valley rd Santa Barbara
Please RT#missing #missingperson #Montecito #SantaBarbara #mudslides pic.twitter.com/DI9Eb629vO

— Nicole Burke (@nicoleburkeAD) January 10, 2018