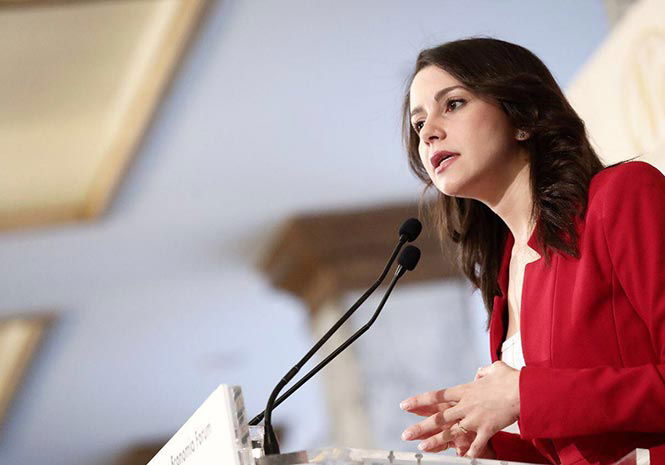 THE WINNER of last month's Catalan elections has spoken about her plans for forming a government in a wide-ranging interview.
Ines Arrimadas, the leader of the pro-unity Ciudadanos party, has said she would "love" to become president after parliament is sworn in next Wednesday (January 17).
Speaking to the Spanish newspaper El Pais, the 36-year-old admits she is not yet trying to form a government – despite winning most seats – because the separatist parties have a combined majority in the Catalan parliament.
But, she adds: "If the secessionists can't form government, we will propose an alternative.
"It's not clear to me at all that separatists are going to reach a deal, with some of them fleeing from justice, others in Brussels, others in prison… we know what we're doing."
In last month's regional election – called following an illegal referendum and a declaration of independence – Arrimadas' party won 37 seats. That put them ahead of former president Carles Puidgemont's party on 34 and his former number two – jailed Oriol Junqueras – whose party won 32 seats.
However, pro-independence parties working together would have a majority in the parliament.
Arrimidas said: "I wish the number of seats we obtained was more in line with the number of votes that were cast in our favor… But we're going to handle this in the best possible way. We know what we're doing.
"If they (pro-independence parties) are unable (to form a government) – and chances are high that they will be unable to – we will then be under the obligation to propose an alternative of our own.
"I would love to be able to lead the government in Catalonia."
Discussing the details of how she would form a government, she suggested she could make a deal with an unaligned party.
"We would clearly have to talk with "the Commons" (an unaligned party). I have never refused to talk to them, I have never vetoed them. Any party that can help stop the madness currently gripping Catalonia – corporate flight, a fractured society, lower investment levels – is clearly welcome.
"If you ask me whether they'd be welcome to join a government, that would be very complicated. But of course we could hold talks to unblock the situation and at least get them to abstain.
"They have said through every possible channel that they will vote against me, but we'll see… we'll see when there are five days left before a second election has to be called, and if just by abstaining they could facilitate the appointment of a new premier; we'll see if they keep voting no."
Her upbeat tone may surprise some pro-unity groups, who were disappointed that pro-independence parties won a surprise majority.
But Arrimidas also cautioned against any expectation that the situation could be resolved quickly, warning: "I understand people want to deal with 35 years of nationalism in five days, but unfortunately that's not going to happen."
She finished the interview by adding: "they are not going to achieve independence."