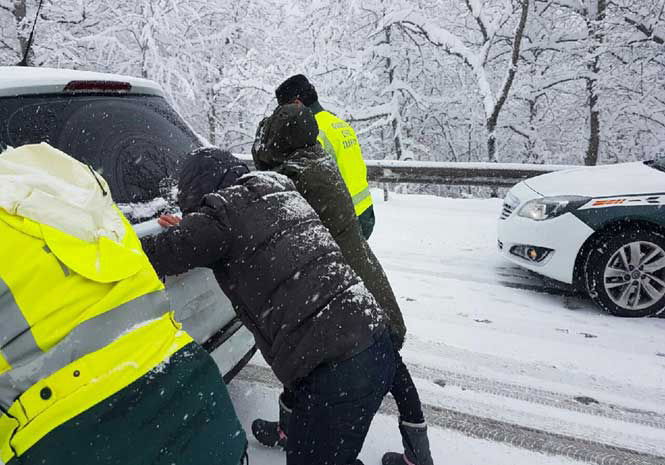 SPAIN'S national weather agency has issued a raft of new severe weather warnings as an Atlantic front brings more winter storms to the mainland.
More than 700 snowploughs are on standby in an effort to keep the roads open with 12 provinces on alert for snow and others on alert for freezing temperatures and heavy rain.
There are yellow severe weather warnings from Aemet for heavy snowfall in Castilla y León, Extremadura, Galicia, Madrid, the Asturias, Castilla León and Galicia on Wednesday.
The Civil Protection agency has advised motorists to travel with chains or winter tyres, warm clothes and a mobile phone with a replacement battery and/or charger.
They say that if you get stuck in the snow, it is recommended to remain inside the vehicle with the heating on, renewing the air every so often and taking care to check that the exhaust pipe is not blocked to avoid the inhalation of poisonous gases.
Heavy rain is expected in the south of Andalucia and Galicia, where it could be accompanied by hailstorms.
The snow level in the north of the peninsula will be around 800/1,100 metres
Strong winds and gusts are forecast in the regions of Galicia, Cantabrian, Alboran and Balearics.
Some inland areas will see evening temperatures plummet to -10C.
In data verified by Aemet, Riba de Escalote a town of Soria at an altitude of 1,040 metres has already recorded a temperature of -16.6 degrees Celsius, followed by Fresno de Cantespino (Segovia), with – 15.3. In third place, tied, are Puerto el Pico (Ávila) and Sigüenza (Guadalajara) with -14.3.
A weather station in the town of Catantalojas in the Sierra Norte de Guadalajara has recorded -20.8 celsius but is has not been verified by the Aemet.
On Thursday there will be a 'temporary truce' with regard to the rains although there will be areas of 'instability'
Friday will see the arrival of another front and another on Saturday which is described as 'quite active'.
❄️?La localidad serrana de #Cantalojas ha vuelto a marcar la temperatura mínima de España por segundo día consecutivo con 20,8º bajo cero. Ayer se midieron 18,2º bajo cero.

? Autor: Jorge Molinero pic.twitter.com/DRlPRwYQik

— Hacemos Guadalajara (@hacemosGuada) January 9, 2018
¡Ojo si circulas por zonas con riesgo de #nevadas! ❄️❄️❄️ No lo hagas si no llevas cadenas o #neumáticos de invierno https://t.co/qpAm9m0v1h pic.twitter.com/hVEOq84RAF

— Dir. Gral. Tráfico (@DGTes) January 9, 2018
En este momento, 90 #carreteras de la red secundaria afectadas por la #nieve, 21 cortadas – entre ellas 5 puertos- y 13 con cadenas. #Salamanca #Ávila #Cantabria #LaRioja y #Navarra las más afectadas. Consulta información en: https://t.co/imOXvaLf51 @InformacionDGT y 011. pic.twitter.com/xhnXahatgG

— Dir. Gral. Tráfico (@DGTes) January 9, 2018
#FMA #Avisos activos hoy por ❆☃? #nevadas ❆☃?. Detalles/actualizaciones: https://t.co/kIO0zXOwF4 pic.twitter.com/tsYkTSerZA

— AEMET (@AEMET_Esp) January 9, 2018