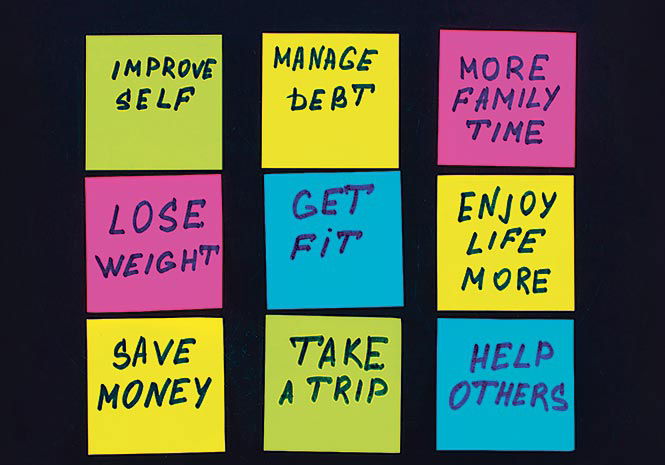 THE road to hell is paved with fine resolutions and good wishes.
Yet, change is as inevitable as death. It's good that each year we seem to give ourselves that opportunity to resolutely make changes that are totally necessary.
Unfortunately our blurred and fuzzy psychic, still well confused from New Year's revelries often indistinguishable from mature thought and progressive utilitarian improvement easily falls into whimsical fantasies that wouldn't be implemented in a millennium of attempted new starts. 
Soon the drudgery of rhythmic attempts wears thin and unperceived problems appear that alter our scheduling for 'me time' and all the best of intentions slowly fizzle or fret themselves away. Lost in a busy day of frenzied activity leading to being busier, but what was accomplished could rarely be written down.
Nevertheless, our yearning heart and beseeching soul begs for more. Yes, but make it better still sweet Lord. We want it bestowed upon us as a gift from high, if effort is involved, possibly what we desired wasn't meant for us.
I look at this time of the year as the 'trade-offs.' What has to be given up to accomplish what we think we desire most? So it goes, the constant inner struggle, at least for the first two-three weeks of the New Year. Until the consciousness grows weary of the struggle or the entire affair is conveniently forgotten.
After all, it was the American school of transcendentalism that purported 'a foolish consistency is but the hobgoblin of little minds.' The underlying statement was to caution taking oneself too seriously. Giving up on resolutions then is likewise taken with less attitude.
After all, let's not be cruel about this thing. First there is always next year, another list, shorter if possible and less exaggerated on what you seek. The propensity of the situation is lifted and you can sincerely enjoy the next 11 months.
Remember, drink the good wines first. Life isn't for looking at but rather chocking the neck of the bottle and filling the glasses amongst your friends yet once again. Let the bon humour flow and the wine even more so.
Reconsider lowering your desires. Spend more time with the dog. Take your wife for lunch with no apparent excuse. Meet new Spanish friends and learn a few more conversational arguments.
(You will never win, as they have perfected the art of bar room banter to an art form). Then again, you don't need to win either, that's not the point… it's showing up and being heard and sharing in the laughter.