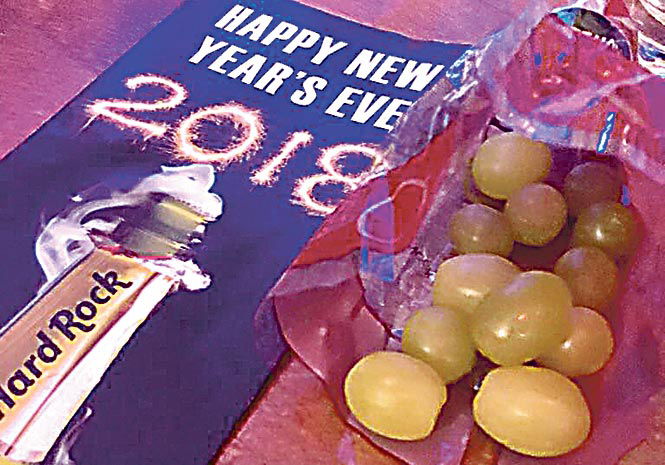 FIRSTLY I want to wish you all a very happy, happy, happy, happy, happy and healthy New Year.  
It's going to be a good one!!  How do I know? Well amongst other factors, this year I managed to eat all my grapes!
It's a great Spanish tradition dating back to either the 1800's or early 1900's; depending on which version of the story you prefer.
Some say that back in the 1880's the bourgeois Spanish class caught on to the French custom of celebrating New Year's Eve eating grapes and drinking sparkling wine.  
Soon after some of those gathering in the main city square, our beloved Puerta del Sol in Madrid, also started to eat grapes to bring in the New Year, perhaps to emulate or even mock the upper classes. 
Others say that it wasn't until the early 1900's and an over abundant harvest of white grapes in Alicante that the tradition was born.
Either way, grapes are undoubtedly the centre of focus of a Spanish New Year and a tradition my daughter thinks should be extended worldwide.  I think she's got a good point.
Not only is it a challenge as you only have about three seconds to chew and swallow each grape, it's one that Spain takes on together and it's fun!  
The event was first televised in 1962 and to-date, no matter where they are, home or out and about, televisions across the country are still turned on for the official countdown and grapes are gobbled.
Everyone eats his or her grapes hopefully in perfect synchronicity with the chimes and preferably not choking in the process.  
It is important that one grape be eaten with each chime of midnight for good luck and prosperity for the incoming year, so picking out 12 smaller grapes is highly recommended if possible. 
This year I was determined to eat all my grapes and knowing how hard it can be to eat anything after a New Year's Eve dinner, I also peeled each one beforehand in preparation.
As this proved to be most successful I've also decided to have a little more forethought and preparation for everything else in 2018 and to remember to appreciate how lucky we are to live in a country with such entertaining traditions.