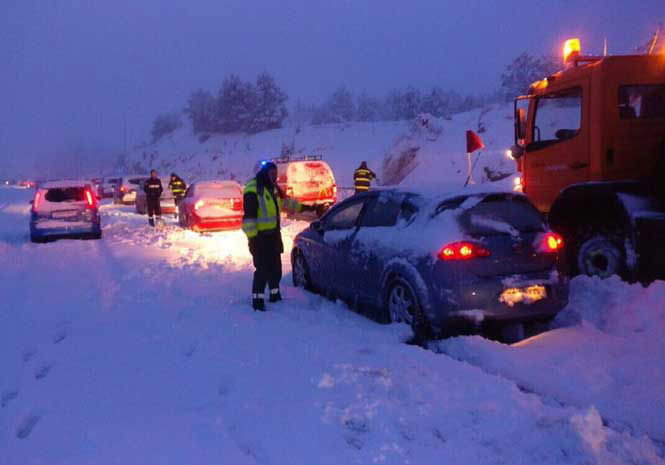 MANY parts of Spain have woken this morning blanketed in snow.
There are currently warnings for snow across 17 provinces and the Dirección General de Tráfico (DGT) are warning the situation on the roads is 'complicated.'
Despite the best efforts of highways workers and the emergency services many roads are impassable. They warn the situation could get worse.
Personnel from the UME (Military Emergency Unit) are working to clear the AP7 between Segovia and Madrid.
Ávila, Salamanca, Segovia and Soria are the regions most affected – but there are also road closures across the country and in the southern Andalucia, including the white village of Grazalema in Cadiz and roads in Granada and Malaga provinces too.
In some areas the DGT has said the use of snow chains or winter tyres is obligatory.
Drivers are advised to check road conditions before setting out on their journeys via the website: http://infocar.dgt.es/etraffic/
Details of roads blocked at the moment can be found here: http://www.dgt.es/boletin/CarreterasAfectadasVI.pdf
@guardiacivil @UMEgob @DGTes @fomentogob siguen trabajando en la AP-6 para seguir sacando vehículos. En el resto de carreteras es necesario informarse antes de viajar y respetar los avisos. Después todo es muy complicado. La nevada continúa. pic.twitter.com/FuVZWOvWDl

— Gregorio Serrano (@Gserrano_DGT) January 7, 2018
#Nevada la mejora de las condiciones permite aligerar la descongestión de la #AP6 pic.twitter.com/hKf1J35YW4

— UME (@UMEgob) January 7, 2018
#Nevada Seguimos trabajando, ya con las primeras luces del día, coche coche metro a metro pic.twitter.com/fCGpT7tIPK

— UME (@UMEgob) January 7, 2018
Con #nieve❄️❄️ en las #carreteras, la información del #tráfico es vital. Consulta en https://t.co/TbTRX7WESR y recuerda lo que significan los colores ?nivel verde?, rojo?, amarillo? y negro⚫️ https://t.co/FEVEYbXzXt pic.twitter.com/ohadlZfs9N

— Dir. Gral. Tráfico (@DGTes) January 7, 2018