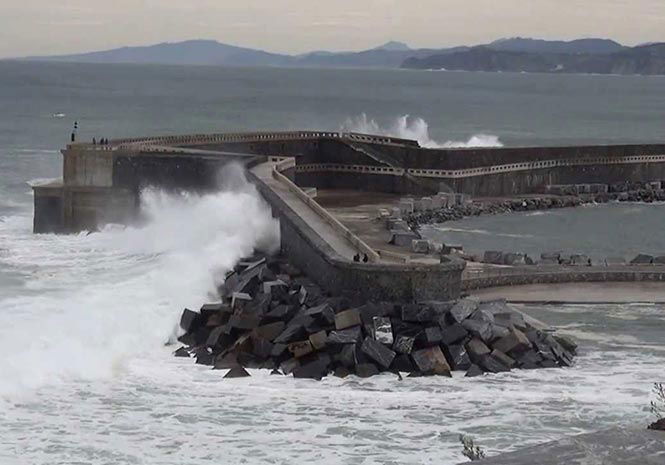 A DEADLY wave has claimed the lives of a couple in Mutriku, Basque Country.
Diego Verdejo Lopez, 67, and Loli Kintana Martinez, 65, had ventured onto a breakwater to look at the impressive five-metre breakers sweeping in off the Bay of Biscay when they were swallowed by what onlookers described as "a huge wave."
Visiting the coast from the inland town of Vitoria, they had been romantically involved for around a year after earlier losing their long-term partners.
According to eyewitness accounts, the pair were seen parking their car and walking onto the breakwater – which was not cordoned off and forms part of a wave energy converter – when an unexpectedly large wave swept them into the raging sea.
Three people who were on the beach at the time rushed to their aid.
Mr Lopez was already dead, having drowned before they reached him, but Ms Martinez managed to briefly grab a rope they threw towards her.
But the force of the water caused it to snap and she was killed after being repeatedly dashed against the brick structure.
One of the would-be rescuers even dived into the water to try and help her and had to be rescued by fire fighters after they arrived at the scene.
Mr Lopez' body had by this point already washed up on the beach, while that of his partner was eventually pulled from the sea.
TRAGIC: This shocking sequence of images from social media captures the moment that the victims were swept off the breakwater ©Facebook
A fire brigade official later said: "When we saw that the woman was already dead we decided not to enter the water as the conditions were so difficult."
A distraught family member told Spanish media he could not believe how they "failed to see the danger."
The town council has in the wake of the incident announced that the breakwater will in future be closed whenever a dangerous weather warning is in place.
The deaths come as Storm Eleanor battered northern Spain, bringing rain, snow, high winds and dangerous sea swells after orange warnings for dangerous conditions were put in place by national weather office AEMET.
Much of northern Spain will remain under yellow or orange weather alerts over the weekend as string winds and rain continue to buffet the area.
WARNINGS: An AEMET map showing the weather warnings in place for Saturday ©AEMET