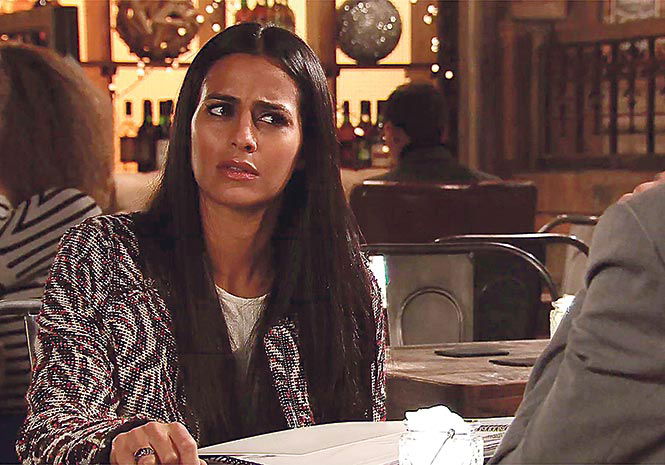 CORONATION STREET (ITV1, weekdays) fans are reportedly shocked by recent events focusing on Alya.
Apparently the producers suffered a backlash from vocal viewers when they introduced a pre-watershed storyline with offensive language and racial abuse, but before Christmas I asked for something chunky from soap writers and The Street has delivered.
Recently, Alya was in the throes of closing a business deal with Aidan Connor, played brilliantly by Shayne Ward, and was joined by new clients Dale and Justin Parker at The Bistro. 
You need to suspend belief that Bistros anywhere actually look like the one used in The Street – what is with those lights and the freaky Father Christmas on the bar – but having got over that, Dale and Justin racially abused Alya and threw some disgusting language at her. 
This made uncomfortable viewing and I was genuinely shocked by what was said, but judging by the chatter on social media, the storyline got people talking. It will be interesting to see where the writers take this next. 
Fans of the show no doubt share my own bewilderment around why residents have deserted Roy's Milky for Costa Coffee. That isn't a con leche on the sand, but the high street brand. Where have Costa opened a branch in Weatherfield?
New Year's Eve television limped us into 2018 with a predictable offering of Graham Norton (BBC1), Jools Holland (BBC2) and the ITV News. 
I worry about Graham, does he ever sleep? It seems to me that the only person who gets more air time than Mr N is Paul O'Grady and Paul has to share with miscellaneous pooches on ITV1, so it's not all about him. 
The BBC had Ed Sheeran on both main channels, Top of the Pops on BBC1 and with Jools on BBC2, so clearly someone somewhere in Broadcasting House is a fan. I'm not and was pleased to have a small party to head off to in my local Plaza. 
New Year's Day was altogether a better TV offering. Two shows from BBC1 stood out for me. Firstly, Grandpa's Great Escape starring Sir Tom Courtenay was an early evening delight. If I'm honest, I am not usually a big fan of anything David Walliams but I really enjoyed this. Jennifer Saunders was brilliantly cast as up to no good Miss Dandy; not sure if this one has made it to Catch Up, but if you missed it, try and search it out.
Mrs Brown's Boys was a welcome burst of humour later on New Year's Day. I loved Agnes being part of the neighbourhood watch scheme. Fans of the show will be pleased a new series of All Round to Mrs Brown's is scheduled for later in 2018 – I don't see the attraction myself but, for me the original format of the show shouldn't have been messed around with. 
I am also really enjoying the latest BBC1 drama McMafia (next episode Jan 7 at 10.00pm). A little like Ed Sheeran, the star of this crime, honour and family masterpiece is everywhere but unlike Ed, James Norton is brilliant. This is an eight part burst of thrilling action which sees James playing an ethical banker (don't Google that, will you) forced to enter a world he is trying to leave behind. 
If you liked James in Granchester and what wasn't to like, you will enjoy this one too. 
Happy New Year everyone.