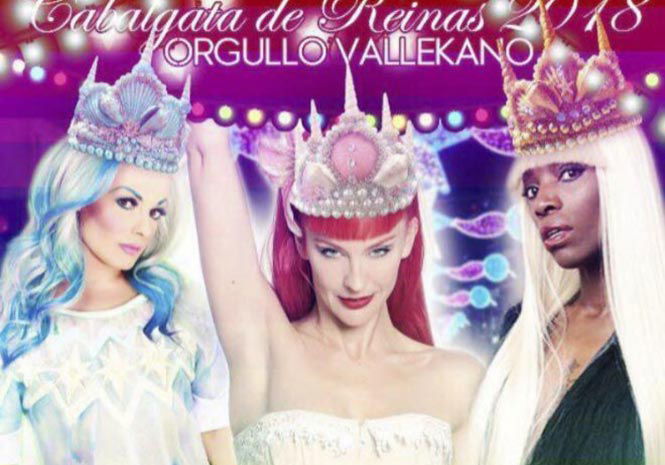 THE DECISION to use a drag queen as one of the Three Kings in Madrid's traditional parade has divided opinion.
Traditionalists are heavily against the move, even threatening legal action to overturn the decision, according to reports.
Traditionally, the Three Kings were played by local, male councillors – one of whom would often "black up" for the event.
In more recent years, parades have come under pressure to stop the practice.
In Madrid, a left-leaning council have been particularly conscious to recognise diversity.
This year, two women and a drag queen are playing Melchior, Caspar and Balthazar.
They are Roma Calderón, an actress and cabaret dancer, black hip hop artist Dnoé Lamiss and 'drag queen' La Prohibida.
Tweeting a picture of Darth Vader, La Prohibida commented: "some protest that my participation in a children's party denatures the tradition. But nobody protested when…"
But some have taken a less light-hearted stance.
"Sometimes, a procession of Kings has to simply be what children expect it to be, a procession of Kings", said Begona Villacis, a Madrid councillor for Ciudadanos, a centre right party.
"We support Gay Pride and the rest of those celebrations, but we believe that Kings' Day should be respected as a religious holiday," added Jose Luis Martinez-Almeida, council spokesman of the PP for Madrid.
One social media user added: "The inclusion of drag queens in the Cabalgata de los Reyes Magos of Vallecas has the purpose of expanding the LGTBI indoctrination that is already done in schools and disrespecting Christians."
Others have defended the decision.
Carla Antonelli, a regional parliament member for the Socialist party, said: "It's yet another example of the diversity of Madrid. It helps raise the visibility of 'trans' and LGTBI."
The leftist leader of the Puente de Vallecas council, Paco Perez, added: "It's not going to be a drag queen performance.
"The organizers have been careful with traditions and childhood sensibilities."
One activist simply wrote: #LoveWins on social media. 
#LoveWins ❤❤❤❤❤? pic.twitter.com/jNLDKyf8UX

— Orgullo Vallekano (@orgullovallekas) January 3, 2018
Three Kings' Day parades takes place on Friday, the day before the official day (January 6), when children receive their Christmas presents.