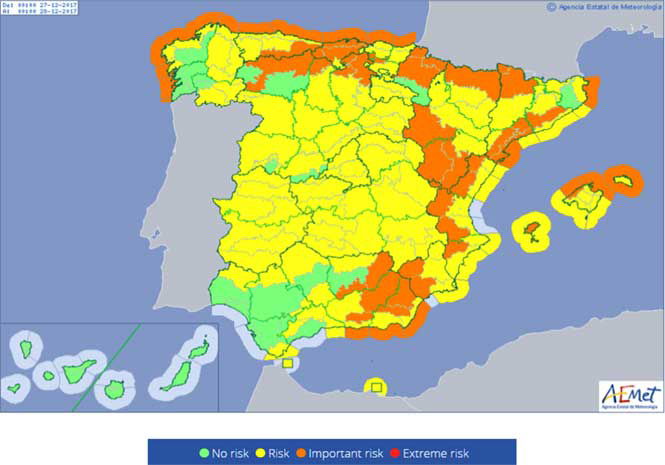 STORM BRUNO will bring heavy rain, significant snowfalls and strong winds to Spain as the majority of the peninsula has yellow and orange storm warnings in place through until Thursday.
>> Scroll down the page to see the latest alerts for the whole of the country…
Heavy rain and gale-force winds will be widespread and whip across the peninsula and Balearic Islands on Wednesday and Thursday.
Wind speeds could exceed 100-110 km/h in northwestern and northern peninsular areas, 70-80 km/h hour in the rest of areas and in the Balearics.
Stormy seas are also expected on the coasts of Galicia and Cantabrico, winds from the west and southwest are expected, force 7 to 8 and combined sea waves from 6 to 8 metres; on the coasts of the Mediterranean force 7 is expected and on the Balearic Islands, Catalonia and southeast Andalucia with waves of 3 to 4 metres.
Any snowfall is expected to be significant, especially in the mountainous areas of the north and northwest as reported by AEMET, the state meteorological agency.
The snow could fall on Wednesday at heights of 700 -1,000 metres in the north, 1,000-1,200 metres in the central region and 1,200-1,500 metres in the mountains of the southeast.
Snow accumulations of 20-30 centimetres are likely in the Pyrenees and the Cantabrian mountains, and 5-10 centimetres in the central regions.