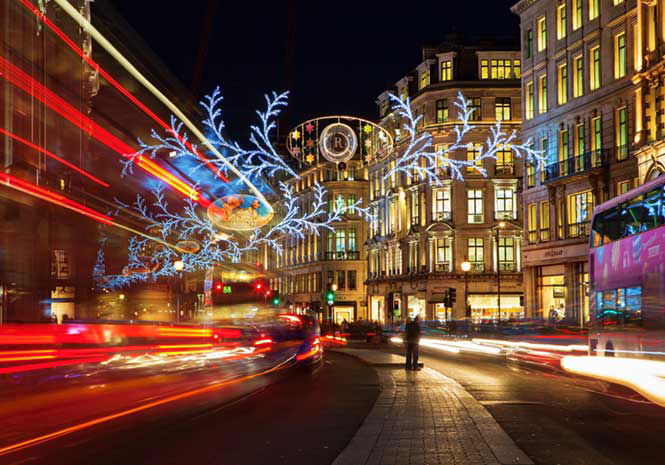 THE Winter Solstice, December 22, the shortest day of the year; when I start to think of Spring.
A faintly ridiculous attitude, yet daylight was a scant eight hours, dull and grey with a slow drizzle of rain.
Yet days later it's Christmas, ten days beyond the solstice the New Year arrives.
Frantic preparations for each anniversary ought to distract from the short days and lousy weather and yet looking beyond is seductive.
Now is when London pulses in the dark
Exhibitions, art galleries , museums, concerts, theatre and movie premiers.
Fabulous food at home or at restaurants, Michelin rosetted gastro pubs or from street kiosks. Food of every possible global origin and of London.
Dazzling neon and blinking LEDs the decorations and lures of shop windows. Department stores and shopping streets vie to bring bright glare and romance to the long nights of deep winter; attracting shoppers like moths to flame.
Bearing gifts for family, travelling to visit distant relations before Christmas Day, an annual migration of many residents of the capital.
The airports frantically processing travellers to destinations throughout Europe and beyond.
More local journeys to villages, towns and cities throughout the UK by buses and trains or glittering lines of cars on sodden motorways stretching off into the murk.
Is this period just a secular and profane season? Does the winter solstice only mark the end of the autumn selling season?
Punctuated at least for me by the November sale in New York city by the auction house Christie's of the painting 'Salvatore Mundi' attributed to Leonardo da Vinci for US$400 million. Ironic?
London is largely secular, few attend places of worship, the religious are minorities.
Quiet and calm or noisy and vociferous, all religious are minorities.
Even banded together all of the religious of London remain a minority. The majority celebrate this season without regard.
For my own part last week I enjoyed the exhibition of Amadeo Modigliani, I was intrigued by his sculpture though I am probably in the minority, most are attracted to his original portraits.
I have dined with friends and relations.
I did see the latest Star Wars as soon as it opened.
I will be going to see the art and suggestions of the culture of "The Scythians", a nomadic tribe of the steppes this week, and much more. I suppose it's because I am a Londoner.
• Nick, writer of the Monday Morning blog, was a piece of the 'luggage' of expat parents in his youth but has based himself in London; limpet like, for most of  the last four decades working in global media.