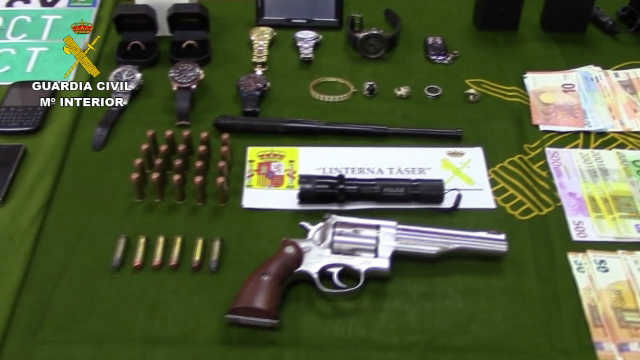 IN an investigation that has lasted for more than 12 months, the Guardia Civil have now arrested 15 people involved in an immense drug smuggling operation within Malaga province.
The operation resulted in the seizure of almost 4 tonnes of hashish, €12,450 in cash, a 'Dirty Harry' Magnum 44 with ammunition, a yacht, 10 vehicles, computer equipment and phones.
Officers discovered that an organisation had been formed which was importing large amounts of hashish from Morocco and storing it in safe houses in Manilva and San Pedro Alcantara.
It was then transported to Sevilla where it was sent onwards via lorry to different destinations within Europe although the smugglers used three different methods of transport of the drug within Spain.
Firstly they loaded up stolen lorries with false number plates and drivers were instructed to drive as fast as possible, stopping for no reason until they reached their destination.
One such lorry, after not stopping at a checkpoint was chased for many kilometres until it crashed into a crowded bus shelter in Malaga city, happily without injuring anyone.
Secondly, they used a yacht for regular shipments but this method was curtailed when their vessel crewed by two Italians was apprehended at sea en route to Nerja and  more than one tonne of the drug was seized by the Guardia Civil in their vessel Rio Miño.
The third method of transport was to pay elderly people to rent vehicles which were then filled with drugs on the assumption that they would not be suspected of being 'mules' although a 67-year-old and a 70-year-old were arrested separately.
All 15 of those arrested have been placed in detention and international arrest warrants have been issued in respect of two alleged members of the gang who managed to escape and are believed to have fled overseas.