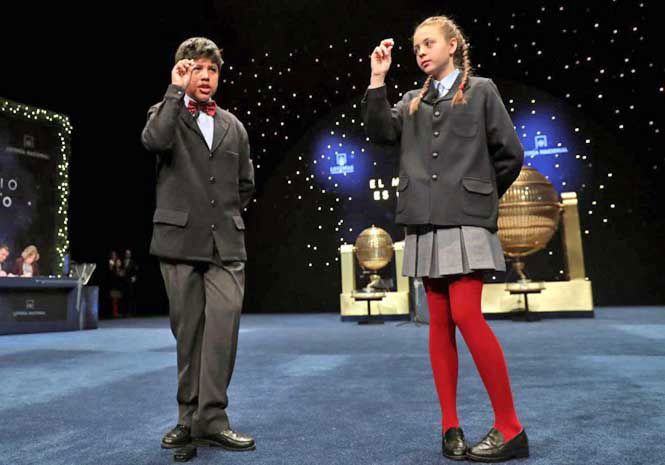 EL GORDO, the big one, has been drawn in Spain's bumper Chistmas the lottery with winners in Lugo, Málaga, Huesca, Jaén, Lleida, Madrid, Cantabria and Cádiz. Each holder of a decimo of the number 71198 will win €400,000.
The second prize number (51244) was drawn at 9.56am with €125,000 going to each holder of a decimo.
There is a wide distribution of second-prize winners with tickets sold across  50 administrations including Cantabria, Vizcaya, Santa Cruz de Tenerife, Albacete, Balearic Islands, Madrid, Valencia, Las Palmas, León, Córdoba, Ourense, Pontevedra, Álava, Badajoz, Barcelona and Cáceres.
The third prize number, 06914, was drawn earlier at 9.20am.
The world-famous state lottery draw is made on December 22 every year although tickets go on sale in July. The children of the San Ildefonso School in Madrid sing the numbers and winning amounts as they are drawn at the Teatro Real.
The 2017 draw has seen 170 million tenths of a ticket put on sale – five million more than last year – with numbers ranging from 00000 to 99999. 
A décimo, or 10th of a ticket, are sold at €20 per ticket. 
The total value of prize money available is €2,380,000,000 some €70,000,000 more than in 2016.
The first prize is €4million but because a full ticket costs €200, most people only buy a décimo, or tenth of a ticket at €20, the first prize equates to €400,000.
Second prize is €1.25m for a full ticket or €125,000 for a tenth, whilst for third place; the pot comes to €500,000 for a ticket or €50,000 for a tenth. There is a selection of fourth or fifth prizes too and if your ticket is picked out among the hundreds of individual numbers drawn, that tenth is worth €200.