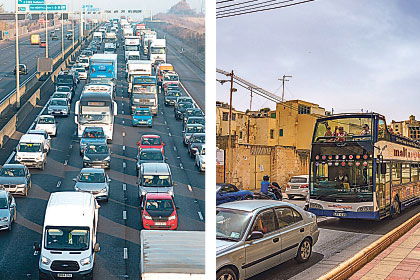 TWO things have been glaringly consistent on my latest trip to the old country, the almost unbelievable volume of traffic and the cold! 
Talk about the appendages of brass primates; the streets are littered with them! As for the traffic – well, not being the most patient of drivers, after two days of automobile altercations, my companion has now banned me from taking the wheel altogether. We did however manage to squeeze in a three-day trip to Malta. 
Although it temporarily took care of the brass monkey syndrome, it certainly didn't resolve the increased traffic dilemma. Malta's tourist economy is, I'm delighted to say, positively booming, but unfortunately the road development programme hasn't quite caught up with the amount of newly acquired vehicles the locals are treating themselves to. Ah well, I'm sure they'll sort it. Good luck to 'em. This historically beleaguered island deserves all the success it can get. 
'Course back in Blighty nothing much has changed. I was particularly peeved about the report of the black female, who was ticked off for putting her muddy feet up on the seat of a train.  When the gentleman opposite (an MP no less) objected, she launched into a mouthy tirade which, among other things, included calling him a 'white idiot.' The report went on to say that it was all resolved peacefully however and by the end of the journey they had 'become friends.'  Mmm, interesting. If he had called her a black idiot they would have been having their differences resolved down the local nick! 
I was also a party to the views of some of the ladies concerning the recent surge into the, oft trivial, sexual harassment complaints. Almost without exception they consider the bulk of accusations frivolous and often quite ridiculous. Indeed some have told me that in their younger days, if they didn't receive some form of sexual connotation or wolf whistle on their travels they would often worry that there may be something wrong with them. I did take note of the recent cartoon which showed a woman complaining to her boss that, as she was the only member of the female staff that hadn't been subjected to some form of sexual harassment, she was going to sue for discrimination. Don't laugh, nothing would surprise me anymore,
Not sure the latest Brexit deal is quite as wonderful as they all seem to be making out. Hopefully it will at least finally shut up all the Remoaners and allow the more forward thinkers to get on with the task of making the UK a leading, independent  and successful runner in the whole host of world markets now finally opening up to us.
One dark spot, for the ol' boy, straight from the horse's mouth as it were.  Apparently I had actually been seriously considered for a spate in the Celebrity Jungle series but had been passed over because of my past criminal record! Marvellous ennit?  One, highly debatable slip, some 45 years ago, in an otherwise untarnished lifetime of lawful existence, and it still follows me around. Ah well, didn't want to eat their rotten grubs anyway.
Keep the faith,  Love Leapy, [email protected]
Leapy Lee's opinions are his own and are not necessarily representative of those of the publishers, advertisers or sponsors.