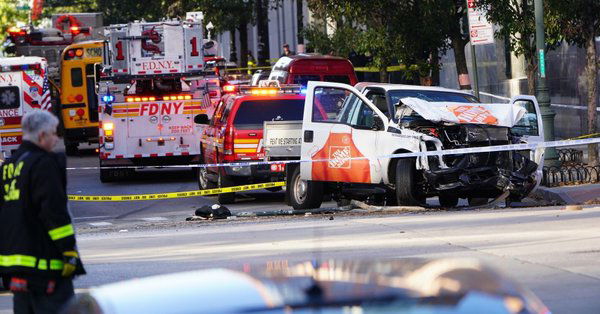 EIGHT people have been killed in a  terror vehicle attack on a cycle path near the 9/11 memorial site in Lower Manhattan, New York.
At least ten more  people have been injured.
Witnesses have described seeing a white, badly-damaged,  flatbed rental truck at the scene after it struck pedestrians and cyclists.
Shocking video posted on social media shows multiple casualties lying on the ground with debris scattered around them.
Officials said  Uzbekistan national Sayfullo Habibullaevic Saipov was shot in the stomach by a policer after he jumped from the truck with two replica guns. He is expected to survive after undergoing surgery.
A suspect is in custody in NYC after police responded to reports of a shooting in Lower Manhattan https://t.co/wAKD67WRA2




— The New York Times (@nytimes) October 31, 2017
There are fatalities after a truck struck several people in lower Manhattan, NYPD sources say https://t.co/axVXl97Qb3 pic.twitter.com/8NsFg4fy40

— CNN Breaking News (@cnnbrk) October 31, 2017



LATEST: Up To 6 Dead In Manhattan Truck Attack, Suspect In Custody – https://t.co/mzvV2F3f8g pic.twitter.com/TCA9AG9ley

— Breaking911 (@Breaking911) October 31, 2017