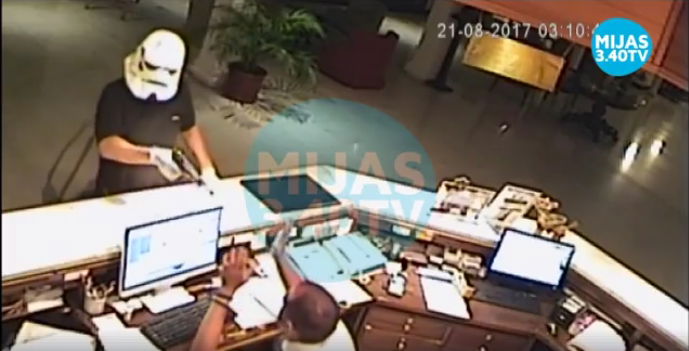 A 41-YEAR-OLD British expatriate has been held in Mijas on suspicion of robbing a hotel while dressed as a character from sci-fi movie franchise Star Wars.
The culprit was wearing an Imperial Storm Trooper mask as he entered the Mijas Pueblo hotel carrying a gun before stealing €1,500 in cash from reception and fleeing the scene.
It comes after police released CCTV footage of the incident, which has been widely shared on social media.
Guardia Civil Mijas #Málaga detiene a un "soldado imperial" por atracar un hotel ¡con un casco y todo!
(no es broma)https://t.co/slDFgTC1Ek pic.twitter.com/a3eIBOK3EH

— Guardia Civil (@guardiacivil) October 19, 2017
In the video, the helmet-clad man can be seen casually walking through the hotel's reception before pointing a gun at the receptionist.
After putting the money into a small black bag, the thief initially leaves the scene but returns to destroy what appears to be the deskphone.
Hours earlier, there had been reports of an attempted robbery at a holiday home in the area by the same individual.
After probing videos and images of both events, Guardia Civil officers were able to arrest the unnamed Englishman and also found a loaded gun at his registered address.
The 41-year-old has reportedly been accused of two counts of alleged robbery, robbery with attempted violence and intimidation.
He has been imprisoned without bail pending trial.