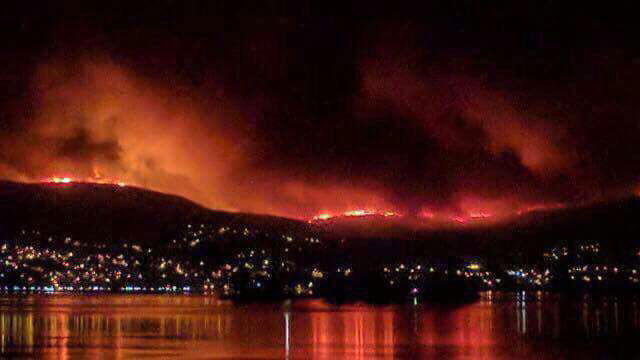 THE remains of two people have been found in a burnt out car in Galicia in the north of Spain after a weekend that has seen more than 146 fires recorded.
>> IN PICTURES: Death toll rises as wildfires rage across Spain and Portugal
The vehicle was found on the road between Camos and Chandebrito in the municipality of Pontevedra Nigrán. Initial reports  indicate that the van was trapped by the fire while driving  through a wooded area.
Between Friday and Sunday afternoon there were 146 fires reported with 28 in the early hours of the morning when fire-fighting helicopters cannot be used.
There is currently a major fire burning in the city of Vigo. Strong winds have fanned the flames of fires across four provinces in Galicia – some of which are believed to have been set by arsonists.
This afternoon the student residences of the University of Vigo  have been evacuated due to the proximity of the flames to the campus.
Fire-fighting reinforcements and military personnel  have been sent to the region 
The Ministry of Defence has deployed a total of 500 soldiers to join the 350 firefighters, 220 pumps and air assets.
Y así toda Galicia… ??#Galicia #Vigo pic.twitter.com/MOqzbnHioX




— #halamadrid (@Blanco_eterno_) October 15, 2017
Donde están los políticos que cargaban banderas!! Ayuden coño! Galícia arde! Esto es el centro de VIGO #ardeGalicia #ardevigo pic.twitter.com/wMv9GB6BDI

— Victor Valga (@victordivalga) October 15, 2017
So sorry to read it!stay strong!!Here, bit less than 500 firemen were fired in Galicia.This is Galicia right now.We deeply understand u!???? pic.twitter.com/mIYuyoer6V

— Noemita_ita (@nosafri) October 15, 2017
The horror! Wildfires in Galicia. The city of Vigo is surrounded by flames. Panic spreading. People hoping for rain. #ArdeVigo #ArdeGalicia pic.twitter.com/Qq6vKZpD0d

— Benito Cao (@BenitoCao) October 15, 2017