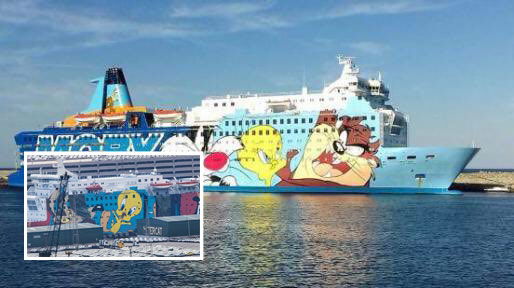 ENTERTAINMENT giant Warner Brothers have demanded that Spanish authorities cover up Looney Tunes cartoon characters displayed on a ship used to bring riot police to Barcelona.
The Italian-owned, Moby Dada is adorned in famous characters from classic animated series including Sylvester, Tweety Pie and Taz.
But it is currently being used to house more than 4,000 riot police whilst the Catalonian conflict is ongoing.
As images of the vessel were broadcast worldwide, Warner Brothers were left furious that images of their much-loved toons were surrounded by military vehicles and armed officers.
The company have demanded that it be removed from the port as they did not want their iconic characters being linked with the Catalan crisis and huge police deployment.
Operators of the ship have a contract with Spain´s Ministry of the Interior to use the ship until at least October 5, a deal which could be extended if security needs remain.
Unable to get the operators to break the contract, Warner Brothers then insisted that the images be covered up.
Now Daffy Duck, Wiley Coyote and friends hide behind tarpaulins but that was not all folks, as Tweety Pie has since been adopted as an ironic symbol of defiance by Catalan separatists.
Tension is mounting as Madrid have been making a concerted effort to block the October independence referendum with a potent combination of legal action, police deployments and economic sanctions in a bid to stop the vote which has been declared illegal by Spain´s Constitutional Court.
Media organisations have received warnings not to broadcast campaign adverts, more than 100 referendum-related websites have been shut down and police have been sent to hunt down and eradicate ballot papers and materials.
Police have been sent from across the country due to fears of civil unrest in the streets and they will be ordered to shut down polling stations if the Mossos (Catalan regional police) refuse or are unable to do so.
The Spanish Prime Minister, Mariano Rajoy, is expected to skip the upcoming EU summit in an effort to concentrate better on the crisis.
Hundreds of thousands of Catalan residents will take to the streets this Sunday in an effort to cast their vote.