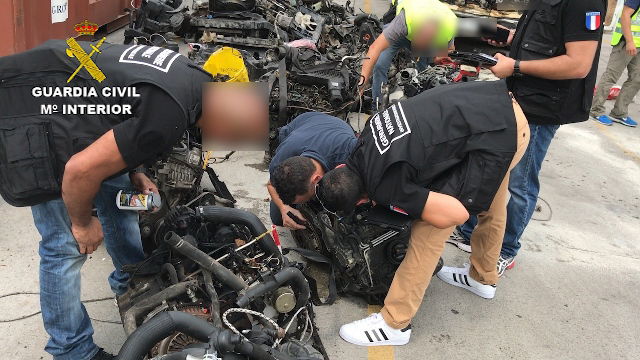 SPAIN'S Guardia Civi, working alongside police colleagues from Austria, France  and Portugal have broken up a gang that  were transporting stolen cars from Europe to North Africa.
Twelve people were arrested in a special operation that simultaneously took place in the ports of Algeciras, Alicante , Almeria, Barcelona, Malaga, Motril, Tarifa and Valencia.
As a result of the Guardia Civil operation a total of 43 vehicles (33 of them completely dismantled), that had been stolen in Italy, France, Germany and Sweden, have been recovered and 12 people of Moroccan, Algerian, French and Dutch nationalities arrested.
High and medium-range vehicles are being targeted, even for the spare parts market.
The investigations are part of the "Operation Crossing the Straits" that is carried out every summer in order to manage the large influx of people and vehicles that during the summer and coming from all over Europe to cross from Spain to North Africa.
So far this year the Civil Guard has recovered more than 17,600 stolen vehicles in total.