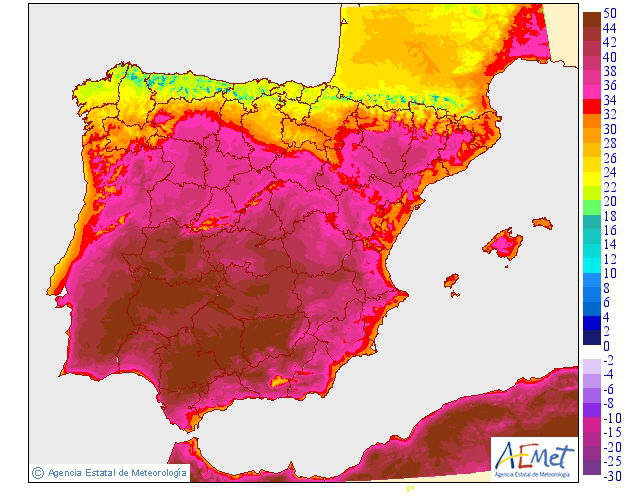 THE Spanish national weather agency, AEMET, have issued a raft of extreme weather warnings for high temperatures across much of Spain with weather that has been described as "genuinely extreme".  
Spokesperson Delia Gutiérrez said, "This heatwave is worse than expected."
Six provinces are on red alert: Jaén, Córdoba, Granada, Sevilla, Cáceres and Badajoz. The remainder are on yellow and orange alerts.
To have six red alerts in one day is unprecedented.
The agency explained, "The red alert is reached when temperatures are around 10% higher than the maximums seen in that location."
Jaén is expected to see the highest temperature today.and it is believed it could set a new record high.
Risk of heatstroke is very high and Health authorities have advised that those most at risk during extremely hot temperatures are children, the elderly, pregnant women and people with chronic diseases who take regular medication.
Their advice is to drink plenty of water and fluids, avoid alcohol and caffeine, eat lots of fruit and vegetables and avoid going outside, as far as possible, in the middle of the day when the sun is at its hottest.
Much of the country also remains on high alert for wildfires with the countryside remaining tinder-dry.