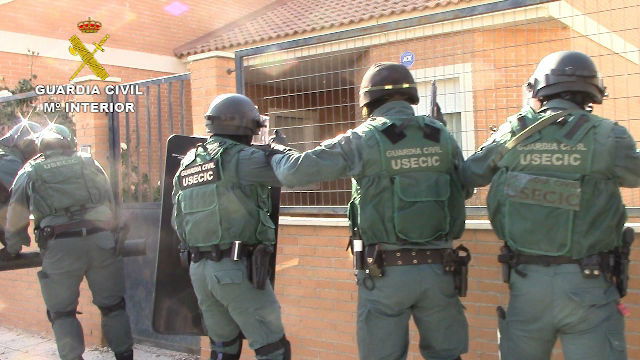 IN two separate investigations Guardia Civil officers have detained five men in connection to a spate of bank robberies in the Madrid area.
Operation "ALLIEN DAY" and operation "ADHERZO" commenced following seven bank robberies in different areas in Toledo.
The robberies which took place in Burguillos de Toledo, Yuncler and Numancia de la Sagra were attributed to four men acting together. The group was believed to be well-trained and well-organised as each attack followed the same pattern and the areas which were targeted did not have Guardia Civil barracks nearby, thus allowing an easier getaway.
Of the four members of the group, two would enter the bank where the leader would begin intimidating customers and employees using a live firearm whilst the other often employed physical violence. The other two men would wait outside, one surveying the area and the other acting as a getaway driver.
The second operation led to the arrest of one individual who was believed to have been acting alone. Following attacks on banks in Camarena, Tortunes and Burujon the investigation identified the suspect who would enter banks with his face fully covered wearing, sunglasses and a hat and begin intimidating staff with a revolver.
He was arrested after his vehicle was spotted driving around Arges. In a search of his house several items of clothing used as disguise and firearms were located. 
Of the five men arrested all have been turned over the Toledo Judiciary where three have already been imprisoned.