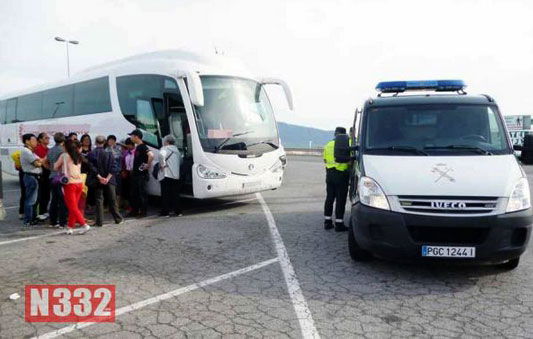 GUARDIA CIVIL officers in the Murcia region of Spain have intercepted a coach carrying 40 passengers and detained the driver who was allegedly six times over the maximum permitted alcohol limit.
The police operations centre was alerted by a service station employee in the municipality of Jumilla over suspicions that the driver was displaying signs of intoxication.
A traffic patrol was dispatched to intercept the vehicle as it headed towards Alicante.
In order to minimise the risk to the passengers and other road users the officers stopped the coach at the La Paz service station on the A7  in Sangonera la Seca.
Once the vehicle was safely off the off the road the driver was subjected to a mandatory alcohol test which produced a positive result of 1.02 and 0.99 milligrams of alcohol per litre of exhaled air, six times the maximum rate permitted in the case of professional drivers, which is 0.15 mg / litre.
The driver, who was carrying 40 Chinese tourists from Granada to Valencia, was arrested for an alleged offence of driving under the influence of alcohol.
He faces a prison sentence of between 6 to 12 months, community service between 31 and 90 days, a fine and the termination of his licence for up to four years.
The officers praised the actions of the service station employee in reporting their suspicions to them.
The Guardia Civil encourage the public to report suspicious drivers who may have consumed excessive alcohol or drugs  on 062 (in Spanish) or the emergency co-ordination centre on 112 (other languages).