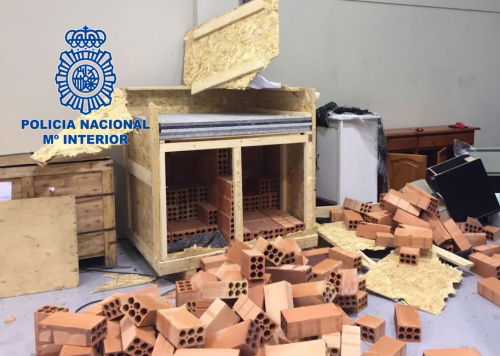 TWENTY-FOUR people have been arrested in Spain and the UK after a joint police operation between the two countries intercepted lorries transporting marijuana hidden in packages that supposedly contained marble tiles.
The gang increased the weight of boxes used for transporting the drug with bricks so as not to raise suspicions.
Three arrests were made in Liverpool and 21 in Spain – eight in Catalonia, five in Malaga and eight in Alicante.
Among them are the two leaders of the organisation and the son-in-law of one of them. When the two leaders were arrested, the agents found a shoebox with €120,000 euros in cash inside.
The drug gang was based in the Valencian Community, Catalonia and Andalucia, and most of its members were young people between 22 and 25-years-old who resided in luxury areas of Marbella and Barcelona and owned high-end vehicles despite having no obvious income.
Four drug plantations in Alicante, Málaga and Barcelona with more than 1,600 plants have been dismantled.
Police have also seized an industrial packing machine located and 58 kilograms of buds.
The British National Crime Agency co-ordinated the investigation between the Spanish National Police officers and the Merseyside police.
The investigation began in June 2016, after Spanish police received information from the British authorities.
Documentation found in the raids indicated that the organisation shipped up to 400 kilograms of different types of marijuana.
Ladrillos y #marihuana en lugar de mármol. 24 detenidos que ocultaban la droga en camiones con destino a #Liverpoolhttps://t.co/ACu6HvFeTD pic.twitter.com/Z7k5vTGSLo

— Policía Nacional (@policia) 20 May 2017